Communities in Bloom judges come to Taber
Posted on July 27, 2022 by Taber Times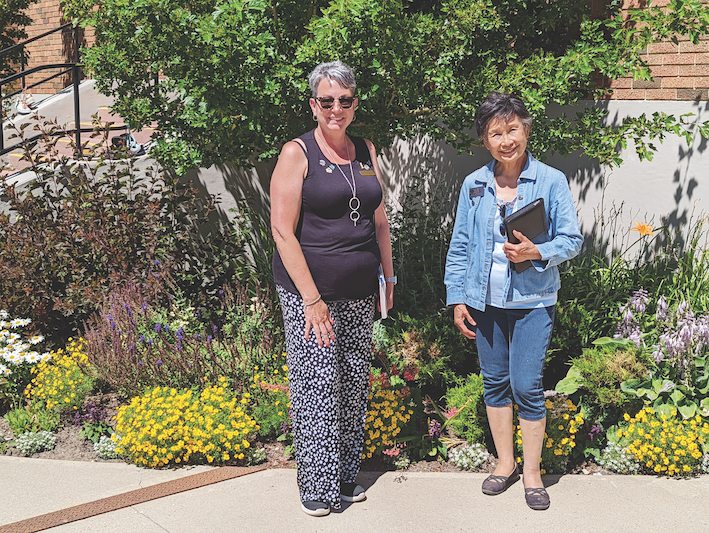 TIMES PHOTO BY COLE PARKINSON
By Cole Parkinson
Taber Times
cparkinson@tabertimes.com
Last week, Taber and the local Communities in Bloom (CiB) welcomed in a pair of judges for provincial judging.
Collen Stockford (Sussex, New Brunswick) and Lucy Chang (Ottawa, Ontario) were on hand last week as they toured across the town and nearby areas. The judges explained the tour sees them go to multiple provinces and their tour was a total of 16 days and seven communities, including Taber.
"It's a Canada-wide program and it's a program designed mainly for volunteers to do it. And I mean volunteers from all of your community —  from the mayor, council, and downward to the business groups to your institutions, schools and everybody has to be involved, and have a stake in it. It is designed to encourage pride in your neighbourhood and community," said Chang.
"And to create green spaces and for all of those entities to participate, especially children and seniors. If you can mix them together — we focus a lot on community involvement," added Stockford.
One area that stood out to the judges on their morning portion of the tour was M.D. of Taber Park.
"It's beautiful and the little municipal park, we went for a tour out there, and I've never seen like that before. It's really neat, I loved it," said Stockford.
After their stop in Taber, they were headed to St. Paul. On top of Alberta, CiB has been hitting several of the provinces this summer.
"We've been to Newfoundland, New Brunswick, Saskatchewan, Alberta, and Manitoba. It's 16 days and seven communities," added Stockford.
As far as what the judges are looking for, they explained there is more than just one element. While flowers may be the main objective people think about when thinking of CiB, the judges explained it's a far more arduous project than just looking at one type of greenery.
To read the full story, pick up a Taber Times issue or subscribe to an ePaper digital subscription! You can sign up for digital or traditional subscriptions on tabertimes.com by clicking subscribe under ePaper on the home page.