Hays Fire Hall getting a facelift this summer
Posted on July 6, 2022 by Taber Times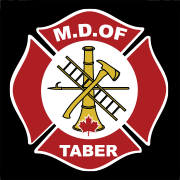 By Cole Parkinson
Taber Times
cparkinson@tabertimes.com
It's been a long time coming and now the Hays fire hall will finally see some modernization within its walls.
The Municipal District of Taber was presented with two quotes for renovations at the fire hall. The project was included in the 2022 budget and the fire hall will see the upstairs living area updated to become a training area, an office area for the station fire chief and officers to complete and work on fire reporting activities will be added, and there will be an update and modernization of the main floor area in an effort to make the space more welcoming and functional for the fire station and working activities.
"Just want to start by saying a big thank you to Corey (Greene, M.D. infrastructure program manager). He was a huge help in getting us this far and I'm sure he will continue to help us if we choose to move forward with the project," stated Nathan Cote, M.D. of Taber regional fire chief. "We put it out to five different companies, looking for some bids. We received two quotes ranging from $223,000 to $150,000. We had $150,000 budgeted and I guess we're looking to move forward with the $149,945,091 bid."
Tollestrup provided a total bid of $149,945.91 while Evans Pro Developments came in at $223,500. VHL Construction, Maple Leaf Construction, and Goldland Construction were also sent requests for quotes, but did not provide one within the time limit. With a budget already set, Cote explained the group did its due diligence in trying to keep costs below the maximum threshold.
"We weren't sure how the renovation would go and we kind of tailored it to meet that budget in meetings with Jim (Yaroslawsky, Hays fire chief) out in Hays to get what he wanted in the long run. Building a training room upstairs, what used to be in the living quarters' area, so gaining that training room is sort of what he wanted and then updating the downstairs office area, bathrooms, training room area, and getting it a bit more modernized."
Councillors also highlighted the fact the Hays station was in dire need of some improvements. While it has taken a little longer than what most have liked, council was happy to finally get it into the budget and the fact the quote came in slightly under, was a great sign to proceed forward.
"When I toured the Hays fire hall four years ago, it was in rough shape and I felt at that time we need to make it not only more functional but safer for those men and women who are volunteering out there," stated Deputy Reeve Tamara Miyanaga. "I think we carefully watched our budget during these last five years I have been involved with council to prepare for this, so even though it may feel like a large expense, it is very important that it is a safe and functional fire hall for our members out in Hays."
"Modernizing it and you have better training and that attracts more community members to serve as volunteers. This is a well worthwhile project," added Coun. John DeGroot.
There was also a question about when the project would be completed.
"I believe they will be starting in July, so whatever it takes them from there anyway. Completion within 2022," replied Cote.
With only two of the five companies providing a quote, it was asked why that was.
"There is only two of the five contractors submitted a bid, do we have any concern with the reticence to submit bids or is everything cool and they're just busy?" asked Coun. Brian Hildebrand.
"Quite busy as well as Hays is a little bit over there," said Cote with a laugh. "Meaning the travel that it would take to get out there. Most of the contractors were quite busy and it has put them into a position where they had to decline putting in a bid on that one."
A motion to award the contract to Tollestrup was carried unanimously.