Travis Toews stops in Taber and Coaldale; receives MLA Hunter's endorsement
Posted on June 29, 2022 by Taber Times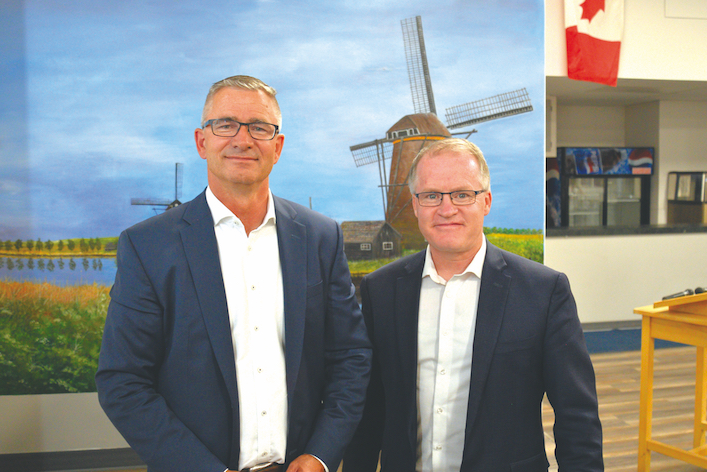 Travis Toews (Left) being endorsed by Grant Hunter (Right) at the Taber Legion for the UCP Leadership race. TIMES PHOTO BY IAN CROFT
By Erika Mathieu
Taber Times
On June 16, the prospective leader for the UCP, Travis Toews, made a stop in Coaldale and Taber to discuss his hopes to lead Alberta.
Following months of low approval ratings, Premier Jason Kenney's formal leadership vote showed the premier received just 51.4 per cent approval vote from members. Kenney's announcement to step down, in four months, has a number of UCP hopefuls vying for a shot at the leadership role.
Toews spoke of the "errant errors" made during the pandemic, particularly with respect to the AHS policy to suspend unvaccinated workers. "If you were unvaccinated, you were gone. I was outraged with that response without any ability to rapid test. I am (not fully) vaccinated and I'm thankful for modern medicine and for vaccines, but a government should never ever force in an official or de facto way its citizens to the isolated. It should not be forced, full stop," and said AHS's enforcement of the vaccination policy was "egregious."
Toews said given the complexities of the pandemic, "if elected leader, I would I would call for a third-party independent inquiry on the Alberta Government's response to the pandemic, knowing I was around that (decision-making) table because we need to fully understand where we erred, where the decisions were taken correctly to inform Albertans and future governments on dealing with the next emergency."
Toews included the contentious federal-provincial relationship as a key talking point during his address and spoke to the "incredible (fiscal) contribution to Canadians across the nation," and said, the Province, "can be strategic," in how it engages with the federal government. "I believe our relationship with Ottawa needs to be a strategic relationship," said Toews.
To read the full story, pick up a Taber Times issue or subscribe to an ePaper digital subscription! You can sign up for digital or traditional subscriptions on tabertimes.com by clicking subscribe under ePaper on the home page.