Celebration of a century for Taberite Burns Wood
Posted on June 22, 2022 by Taber Times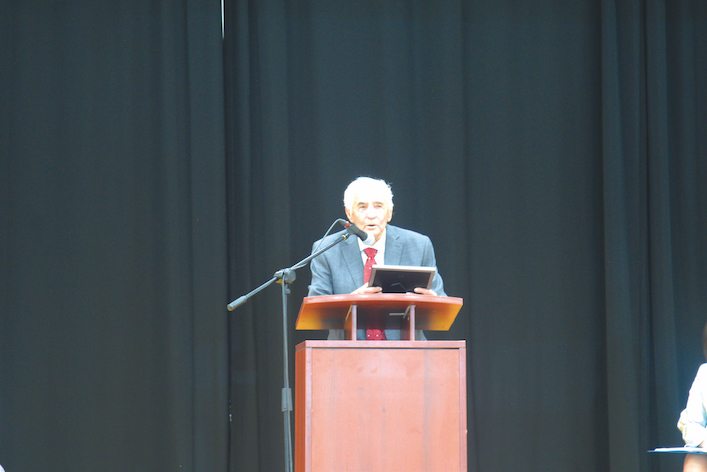 Burns Wood speeking at the Taber Community Centre during senior week. TIMES PHOTO BY IAN CROFT
By Ian Croft
Local Journalism Initiative Reporter
news@tabertimes.com
Living to see 100 years is a momentous occasion and a local senior in Taber, Burns Wood, has achieved such a milestone. Having the free time, he was able to come in and speak with us about his life and turning 100 years old.
"It's inevitable you know, you don't slow down those things, they just come around," said Wood. "I'm getting to feel my age it's mostly in my body, I have a pretty good memory still which is fortunate."
Burns discussed his time living in Taber and what it has meant to him over the years.
"I live on a farm outside of Taber, but Taber has always been our town you know. The municipality of Taber, or the M.D. of Taber, has about as many people in it as the town, so it's quite an important small town because we all consider Taber our town," said Wood. "Originally, the farms were small, they're larger now — there are not quite as many people on farms, but Taber still depends on that double population for their businesses. I was born here in Taber and lived here most of my life other than being in the service and going to university and things like that. I was born in Taber in 1922, and my folks came here in 1921 to Taber, so I've seen almost the complete growth of this town. When I was a kid, the town depended on coal and then irrigation came in. That boosted the outlook for the town, irrigation kind of brought high producing crops, mainly sugar beets. I think Taber depended on that a great deal."
A big deal for the town, Woods explained, was the establishment of the sugar factory.
"After the sugar beet factory was built here in the early 50s, the town had a slogan: 'The town with the insured feature.' The insurance was that the sugar company was paying a lot of taxes every day and then other agricultural items started to be important, you know potatoes and, of course, corn. I'm sure most of the onions in western Canada are grown right here. Taber has been a good town — it's just far enough away from Lethbridge so that people shop here rather than going to Lethbridge and so Lethbridge wasn't a competition. It helped for some things but most of the businesses that Lethbridge had were here as well, especially the farm implement business and things like that. I've enjoyed living here, raised my family, and went to school here. I came here when I was in Grade 2 — we lived on a sheep ranch north of Retlaw for several years. My dad has a lease of a Township that's 36 sections north of Retlaw for a sheep ranch, and we live there mainly during the summer, but we would move back to Taber in the winter. My first schooling here was in 1929 in Grade 2, I still have a picture of the kids. There's 34 kids in that picture there's only two of us left now out of that 34 — Beth Smith in Carson and myself."