Horses bring joy to Taber Hospital
Posted on June 15, 2022 by Taber Times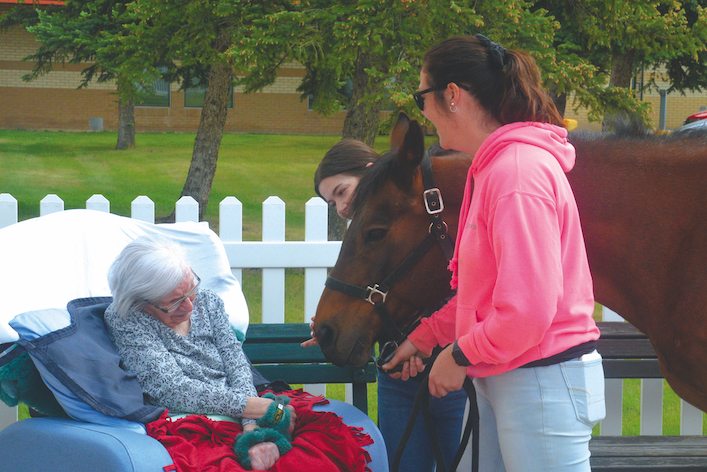 TIMES PHOTO BY IAN CROFT
By Ian Croft
Local Journalism Initiative Reporter
news@tabertimes.com
With some seniors being unable to participate in the events during this year's Seniors' Week due to them requiring medical attention, Andrea Rose, recreation therapist with Alberta Health Services set up a special event just for them. On June 6, the Therapeutic Recreation collaborated with Lethbridge Therapy Riding Association to bring therapy horses to the Taber Hospital Centre for the seniors to enjoy.
"It's something that started actually during COVID and the Lethbridge Therapeutic Riding Association approached us — there had been a number of people that used to go to the Riding Association and because of COVID shutdowns and whatnot, they weren't able to actually do that any longer," said Rose. "They started a program called Horses in the Window where they would bring the horses to people who were shut in facilities and unable to get out themselves. That started and became hugely popular and as you can see, we have a number of people who come out to this program. It's one of our most popular programs. To see these horses and have the opportunity to reminisce about their former lives. Maybe they used to ride horses, maybe they used to rodeo whatever, but it's an opportunity to kind of reconnect with the past, they have the opportunity to reconnect with each other as a resident, which is really super important right now because we have seen people become more isolated over the last few years. This is an opportunity for them to come together and reconnect with a common interest. That's why we did it, we wanted to try and reconnect a residence with each other and with a former leisure or interest they may have had, or even a new interest if they've never known horses before."
To read the full story, pick up a Taber Times issue or subscribe to an ePaper digital subscription! You can sign up for digital or traditional subscriptions on tabertimes.com by clicking subscribe under ePaper on the home page.