Barnwell School's Dayna Anwender Edwin Parr Horizon nominee
Posted on May 4, 2022 by Taber Times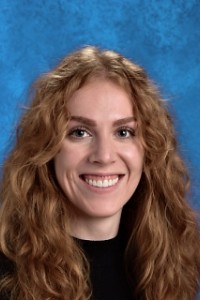 By Cole Parkinson
Taber Times
cparkinson@tabertimes.com
Barnwell School's Dayna Anwender is the 2022 Edwin Parr nominee for Horizon School Division.
Anwender is a graduate of the University of Lethbridge with a Bachelor of Arts and a Bachelor of Education, and she currently teaches Junior High Language Arts, Grade 6 Social Studies, Literacy Intervention, and Junior High options classes.
"At first I was surprised because I couldn't believe it was me who was nominated. There are so many talented teachers in the division, so it was just a huge honour they thought I was deserving of it," said Anwender.
In a press release, Barbara Arend, Barnwell School principal, explained how much of a valuable addition Anwender has been to the school.
"From the beginning of the school year, Dayna has worked on fostering effective relationships with staff, students, and parents. Dayna continually volunteers and willingly assists colleagues with projects they are engaged in for the betterment of the school.She maintains excellent communication with parents through phone calls and emails and reaches out when she is concerned about students to ensure she is able to provide appropriate support. Dayna has an inclusive classroom and prominently shows that she is an ally to all students she works with. Dayna greets the students in her classes each time they come into the room and she has taken the time to know them personally so that she can engage in conversations with them that go beyond the classroom."
With the award ceremony coming up on May 18 at the Heritage Inn, Anwender said winning the award would be an affirmation of the work she has been doing in her first year of teaching.
To read the full story, pick up a Taber Times issue or subscribe to an ePaper digital subscription! You can sign up for digital or traditional subscriptions on tabertimes.com by clicking subscribe under ePaper on the home page.