Chief Cadmus Delorme visits Taber
Posted on April 20, 2022 by Taber Times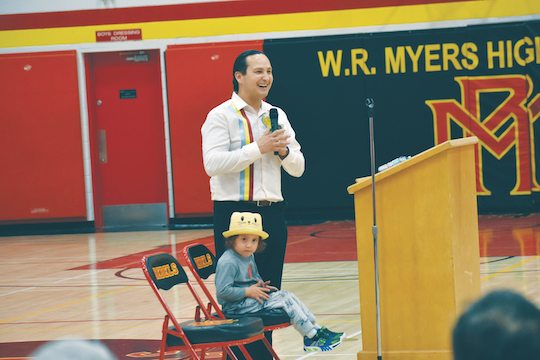 TIMES PHOTO BY COLE PARKINSON
By Cole Parkinson
Taber Times
cparkinson@tabertimes.com
It was a shock in 2021 when the Cowessess First Nation in Saskatchewan announced the discovery of 751 unmarked graves found at the site of the former Marieval Indian Residential School. Just outside of Regina, the Cowessess First Nation made international headlines last year with the discovery, and ever since, the need for truth and reconciliation has been made more clear across Canada. As part of this process, W.R. Myers invited Cowessess First Nation Chief Cadmus Delorme for a presentation. The chief explained the history of Indigenous and settlers wasn't all bad. While the recent discovery highlighted some of the darkest aspects of Canadian history, Delorme also wanted to touch on the fact there were plenty of great interactions as well.
"It's a really good history. Unfortunately, the last 100 years has been really bad with the Indian Act, residential schools, with the Sixties Scoop. But there was a beautiful history before that and sometimes, that is not captured enough in the history that we talk about."
The discovery of the graves led to many heartbreaks for Indigenous people across the country — and while the vast majority of residential schools closed before students at W.R. Myers were born, Delorme explained it is something they have inherited.
"It was really tough, and I'm the chief where we did ours. I'm here not to make us feel bad or corner us, but we truly inherited this as proud Canadians, proud Albertans, and proud Saskatchewanians where I'm from," he said. "The thing when you inherit something, you have a responsibility to do something about it. One of the things I have learned in the unmarked graves history is two things — for Indigenous people it is validation. Validation on the pain, frustration, anger, and tiredness of trying to remain Indigenous in a country that is still somewhat oppressing Indigenous people. To my Canadian friends and family, that shield is down. And admitting you don't know much about the truth between Indigenous people in Canada, and that is truly where this country is at today. We all can reset our compass a little bit so we can set this relationship for the next 50 to 100 years. That is really important."
To read the full story, pick up a Taber Times issue or subscribe to an ePaper digital subscription! You can sign up for digital or traditional subscriptions on tabertimes.com by clicking subscribe under ePaper on the home page.