Danger Cats stand-up comedy tour comes to Taber
Posted on January 19, 2022 by Taber Times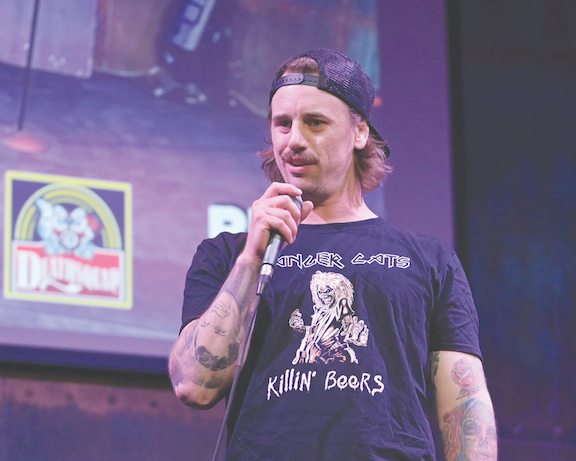 By Greg Price
For The Taber Times
Uncle Hack is coming home to visit his extended family with his blue-collar comedy, this Saturday at The Pin, Taber's bowling alley.
Growing up in Taber in his youth, giving some of his comedic stylings on the Taber minor hockey bench to keep the team loose, school hallways, or the MMA ring, Brendan Blacquier (AKA Uncle Hack), found his sense of humour could net him a paycheque in his appeal to some crowds.
"Back in 2017, I was convinced to start a YouTube channel from my commentary watching Oiler games. So, I made spoof hockey tutorials, with no experience of editing or even the craft of camera work," said Blacquier. "The videos that really took off were the rants and me acting like a fool in oil-patch scenarios. Makes me laugh looking back at them now. Fast forward to now, it's insane the ground we have covered in a short amount of time. I mean five years to some is a long time, but in terms of where we started, to where it is now, is really insane. It's exciting and motivating now with structure and a team."
Danger Cats was born with its own merchandising line and plenty of YouTube content for a dedicated following in the world of social media searches. Danger Cats has even been featured as a vodka with Rig Hand Distillery.
"Honestly, it has been excellent. When I first started, I was a bit out of control with no direction on where to take the brand or even what my goals were inside of this creation. But now it's great. I work alongside some awesome dudes that have the same mindset as me and we are creating something I didn't honestly think was possible," said Blacquier.
That creation will be front and centre with the Danger Cats Stand-Up Comedy Tour this Saturday in Taber, where Blacquier will be joined by fellow comedians Sam Walker and Brett Forte.
"We all like to push the limits of what people consider crossing the line — in fact, we sprint right past the line. Sam Walker and Brett Forte have been the guys I get the pleasure of working with on the road. Sam brings a dark twisted sense of humour to the table," said Blacquier.
Because of COVID restrictions, the tour has kept to Alberta for the most part in recent months, but Blacquier was invited to be a part of Jason Rouse's Canada Day in Austin, Texas, back in July.
"(That) was insane to be a part of this early into a stand-up comedy career," said Blacquier.
Going from the oil patch and doing comedy on the side, to now making it a full-time gig, it hasn't always been smooth sailing as Uncle Hack has chased his laugh dreams. A self-professed man child at 31 years old, Blacquier had to grow up pretty quickly in seeing the business side of things.
"This is my full-time gig now, just doing comedy. Writing, filming, editing, and performing is what consumes a lot of my time, but I enjoy it way too much," said Blacquier. "It's been a wild transition, from having to learn all aspects of the business world as well as creating specific types of content has been quite the transition. Time management has been something I've had to learn fast and remain professional in certain situations."
Blacquier was forged in fire to start his comedy career, where even though he could always take a joke, he found quickly some people couldn't — either in content or delivery.
"My biggest triumph was just starting out, when I first started doing videos. I kept telling myself there is a window to get into stand up, and I would chicken out every time I'd go watch an open mic here in Edmonton. Finally, I asked a local comic in town about it, and he just asked if I had any material. I said yes, and he booked me on a show at The Empress in Edmonton, only giving me five hours to prepare. I bombed horribly and did everything you could possibly do wrong and been hooked ever since," said Blacquier. "Hecklers are great. One of the shows we run in Calgary at The Comedy Cave, we actually encourage the audience to be vocal. You can get some big laughs if you are quick on your feet. Makes you a stronger comic if you can handle, it if you ask me. Some dudes hate it, but I like being forged in fire. Comedy to me is just getting a reaction, positive or negative. If you can take something from the show and laugh even down the road at it, I've done my job. I hate to be a cliché munyuk here, but it dug me out of a hole I was in mentally and physically. I was in a weird spot in life not knowing what the future held, and went through some hard times during the course of Danger Cats to where stand up brought a new aspect to everything. I've made some lifetime friends inside of comedy that will definitely be around for a long time."
Still a relative newbie when it comes to professional comedy, a concrete philosophy in how he views stage comedy seems a bit vain to the blue-collar former Taberite. All he knows is when he watched his first comedy special, Dave Chapelle's 'Killin Them Softly' back in 2003, he was hooked. That led to his obsession with stand-up comedy where George Carlin, Eddie Murphy, and Ron White have also been big influences.
Chapelle has been under fire as of late with comedy shows where transgendered people have been the topic.
The buzzwords of 'cancel culture' have been circulated in recent years on both sides of the political spectrum where politicians, actors, comedians etc. have come under scrutiny for comments made even decades ago. Uncle Hack just shrugs his shoulders, wishing he could get such attention being a small fish in a big comedic pond at this point of his career.
"Honestly, I could care less about it. If anything, it would help my career in terms of the comedy I bring to the table," said Blacquier. "I also think I'm not a big enough fish for cancel culture to even think of taking me down."
That small fish will now be swimming back to his small pond in Taber, where he is excited for the chance to see so many familiar faces from his formative years.
"My business partner has been adamant on coming to the town and seeing the lay of the land. So, he pitched the idea of going there for a show and getting to meet all my buddies. Plus, Cole is a good buddy of mine for quite some time now and being a part-owner of The Pin, figured why not there," said Blacquier.
"It feels good. I am stoked to be able to come home and perform in front of the people I grew up with and have influenced me in some sort of way. I always enjoy coming back to Taber, despite what I say online about the town," he continued with a chuckle. "I love this place and am always proud to say I'm from here. The town is full of some of the greatest people I've met in my life and it's always good to get back and see how everyone is doing and where they are in life."
Tickets for the Danger Cats Stand-Up Comedy Tour Taber stop can be purchased at http://www.DangerCatsShop.com.
If enough tickets are sold, there will be a second show that opens up later on that night. The event goes on Saturday, Jan, 22 at 7 p.m.