Mayor Prokop's look back at Taber's 2021
Posted on January 12, 2022 by Taber Times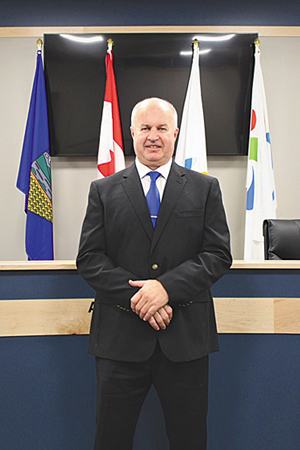 By Kenyon Stronski
Local Journalism Initiative Reporter
reporter@tabertimes.com
2021 was another year of both good and bad. COVID isn't over — and still has no sign of being over soon — events were and are still being cancelled, and places have closed down for good. However, even in a year filled with negatives, it's still good to go back and look at the positives.
"I think overall we did really good, and very well as a community with all the different demands and changes upon us as a municipality and community," said Taber Mayor Andrew Prokop. "This pandemic has messed up a lot of things for us all — with extra stresses and difficulties to deal with in our daily lives and all things considered I believe we adapted very well and have done some very great and progressive things. I don't see that changing much here in 2022 as far as improvements and that's very exciting as always. We want our community to be a better place to be, live and visit. There's always things happening here — we have roughly 125 staff and there's always somebody working within the town or on-call 24 hours a day, same as the police and fire. There's never not an hour in the day where somebody here isn't working for the betterment of our community."
And when it comes to the betterment of community, Taber was still able to accomplish quite a bit in 2021 despite all the setbacks that were imposed.
"We completed the 56 Ave intersection and that was really big. It's a nice new thoroughfare entrance and exit that connects out to the Trout Pond, and along with the pedestrian crossing it completed our 15 kilometer loop for walking around Taber. That's a very big thing for any municipality. Next for that is to deal with some other arteries that attach to the other trails there, but we've had some really great reviews for that and it's just a great improvement for Taber and area, and the community as a whole. That was a roughly three million dollar project and we're very excited to have that done. There's also the Meadows Project which was started last spring, and they're almost done the infrastructure and now they're onto landscaping."
Additionally, Taber also had 42 new businesses arrive in 2021 as well, and while Prokop did say it is a little bit below their four-year average of 45, it is still higher than 41 in 2019.
"I think the fact that even with everything going on, and that number not necessarily decreasing, that's a very big positive, so it's good to look forward to our new businesses."
And back to the Trout Pond, Prokop mentioned that there is still $600,000 to commit in 2022, which could lead to any number of expansions.
"We've talked about a playground, tenting area, day-use area, more trees and maybe a campground to add-on. However, we do also have our pump track for Trail 77 that will be going up this year and will be positioned between the pond and the dog park."
"There's a lot of things happening here in Taber. There's still a lot of volunteer things happening, and people have been doing their part above and beyond and that's great. I'm very glad of the patience of our community and the kindness of those who have helped those that need help or have supported our organizations throughout 2021. That's always great for Taber, that's never changed and I don't see it changing anytime soon so kudos to everyone involved in that. You've made Taber a better place to live."