Taber Fire holding their Lights Ablaze 2021 event
Posted on December 15, 2021 by Taber Times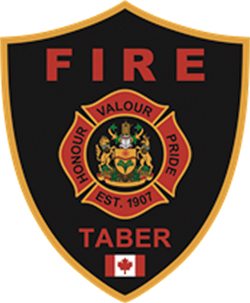 By Kenyon Stronski
Local Journalism Initiative Reporter
reporter@tabertimes.com
The Taber Fire Department will be hosting their Lights Ablaze 2021 event where they will be making their way along a route posted on their Facebook page. The event will begin at 5 P.M. Dec. 18 and they will be making their way slowly — they want everyone to be able to see Santa.
Additionally, they will also be passing out hot chocolate and candy canes to onlookers, and they would love to see pictures.
The route is as follows:
They will begin on 64 Avenue and will make their way south to 62 Avenue, where they will then loop up and around 62A Avenue and go back south, pass 43 Street before turning south once again to connect up with 56 Avenue. They will then turn north, pass the Taber Christian School, make a loop and then continue south down 52 Street before connecting up with 50 Avenue and then going north to St. Patricks elementary. They will then make a couple loops around streets connecting to 47 street before heading down south back to 50 Avenue and then west around the hospital, then back to 50 Avenue where they will pass Clearview Lodge and make their way south — looping around the RCMP building before heading off to 41 Avenue then down 43 Avenue. Lastly, they will go north up 57 street before coming back down 54 Street and ending at the firehall.
A more comprehensive and simplified version of the map can be found on the Taber Fire Department's Facebook page.