Exploring Taber the Monopoly way
Posted on December 8, 2021 by Taber Times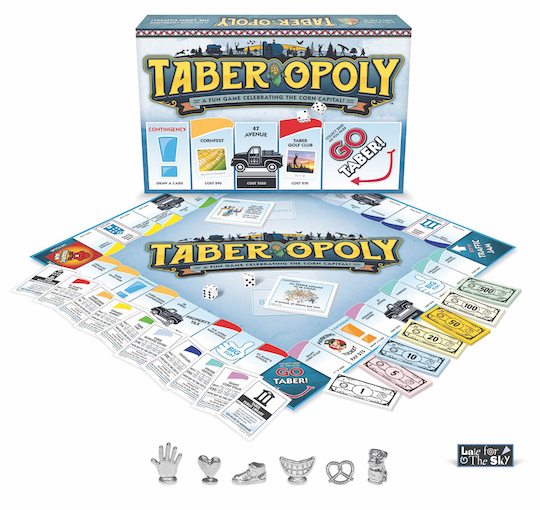 By Cole Parkinson
Taber Times
cparkinson@tabertimes.com
Those looking to bring Taber home with them on a Monopoly board finally have their answer.
Outset Media has released Taber-Opoly, which is based on Monopoly, but with Taber locations. A few locations on the board include the Aquafun Centre, Taber Lake, Winter Festival, Cornfest, Taber Skatepark, and a lot more. The game comes from Canadian-owned and operated Outset Media, which has partnered with Walmart Canada to launch the new game.
"How all of this came about was — a few years ago, Walmart approached us because they knew we had rights to do Monopoly-style games in Canada. So, we were doing things like Beer-Opoly, Cat-Opoly, Dog-Opoly, and they were doing a program in the U.S. that was celebrating communities across the States using Monopoly-style games," explained Jean-Paul Teskey, senior vice-president of Outset Media. "They said 'hey, can we do the same thing in Canada if you develop, produce, and sell them to us?' We said absolutely, so we started with places like Toronto, Calgary, Edmonton, Vancouver, but we quickly found smaller cities and towns really embraced the idea more and they really got behind it. Communities that were 15,000 were selling as much or more than Toronto that has over three million. It was really amazing to see, so for the last year and a half, our focus has been on smaller communities that we feel would be a great fit and we thought Taber would be perfect."
Since the venture started, Outset has now seen quite a few communities across Canada represented.
"We're up to about 200 communities across Canada that we are doing these customized Opoly games with," added Teskey.
As far as which locations are picked to be on the board, Teskey explains it's not an onerous task as they use the Internet to scout locations. While they don't play any favourites, picking locations is about celebrating each community that is represented in the game.
"It's great having Google," Teskey said with a laugh. "We're a Canadian company so we're not completely unfamiliar with places across Canada. In fact, Outset was founded on a Canadian trivia game, so we've always focused on a lot of things Canada. When we have local businesses that we feature on certain things, in that case, we do a couple of calls to make sure everything is up and running, but we don't want to play favourites at all either. We don't ask for money to be on the board and in a lot of cases, they don't even know they are on the board until it comes out. This is meant to be a celebration of communities across the country and meant to be fun."
Another positive Teskey explains is the fact all Opoly's are made in North America. While traditional board games are mass-produced overseas, these community focused games see smaller runs.
"What's great is, we are able to do these games because we aren't making them over in Asia, which typically we would. If you make a game in Asia, you're making 10,000 at a time, but we're making these with a partner in Ohio and we're only making 700 at a time. We're able to customize them, which is a really rare thing these days, which I think is another reason these have taken off," he said. "To be able to play it with streets, points of interest, and businesses or festivals from your specific town or community, it makes it more personable and more fun."
And while bigger and smaller markets have seen their own games, the biggest response has been from more rural areas. So far, the best selling game comes from a small community — not a Toronto, Calgary, Edmonton, or Vancouver.
"It's been great. When we started we thought the best locations would be Toronto or Calgary, but our best selling game is still a small community in Ontario that sold 5,000 plus copies in the last couple of years. That's five times the amount that Toronto-Opoly ever did, so it really is nice to see. I think it's so rare to get something custom made like this when most product is made in mass overseas. It's so interesting and nice to partner with Walmart on a smaller scale like this," confirmed Teskey. "We're a smaller Canadian company so it's a great pride to us to be a part of this."
With the game hitting Walmart and walmart.ca soon, it was explained the run would only be 700 for 2021 with the end of the year approaching.
"Once we're sold out of that run, we're basically sold out for this year. We find with something like this, especially closer to the holidays, these stores can sell a few hundred games in a weekend, which is really nice to see," explained Teskey.