Prokop happy to be at the helm for another four years
Posted on October 27, 2021 by Taber Times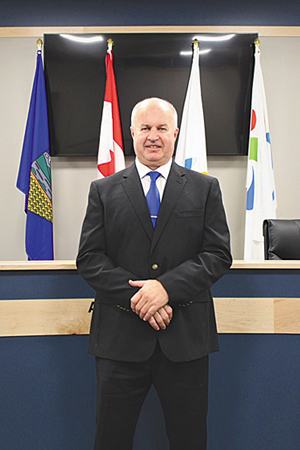 By Kenyon Stronski
Local Journalism Initiative Reporter
reporter@tabertimes.com
With municipal election season now in the rearview, Taber has emerged on the other side with three new councillors, three returning incumbents and Andrew Prokop returning to the mayor's seat.
"It's great to be back for sure," stated Prokop. "I've been very fortunate to have been part of two very proactive councils in the past and I look forward to being part of a third proactive council for bigger and better things."
Taber now has a full council of seven, which Prokop noted is very important.
"We do split up the duties between mayor and councillors, but having a full stock of seven will be a big help. Over time, we had around a dozen votes last council that were tied and in the events of a tie that motion is defeated and can't be revisited for six months. It is a factor and was most definitely a potential issue, but it was also more demanding on the mayor and councillors with splitting up all the duties."
This will now be Prokop's third term on council, saying that one of his main focuses this time around will be on economic growth.
"We're still in the middle of economic growth. We have the Meadows Project that began back in 2017 and is still ongoing, and with that particular project, you'll see manufactured homes on sight in 2022. Once that starts to go and you see it coming together with the landscaping and not just dirt and infrastructure it'll be a lot more attractive and I hope it'll make the lots and development go that much faster."
He also touched on upcoming work at the Trout Pond and trails in the area.
"We also have the Trout Pond which has finished stage three of five. We want to add the pump track for the Trail 77 group for sure, and that will be happening in that area. The playground will be in that area as well, same with a tending and day-use area along with other possibilities; and nothing is in stone as far as what's left. Currently, we have nine campsites out there with room for around 40. We also want to do a lot of new tree planning as well, which will be marked for 2022. We also have the 15 kilometres of trail and the fish in the pond are now four to five pounds compared to one to two when they were first stocked. There's roughly 12,000 fish in around four stockings in three years, but we will have more in 2022 as well. It's great to see the area being well-used."
In terms of being re-elected, Prokop likes to think it's his consistency, open-mindedness, flexibility and vision orientation that made people want him back.
"I do really like hearing people's ideas. I do always like to say that if we aren't aware of a problem we can't fix it. So, I would love to hear absolutely any problem someone has. I am very approachable and I encourage all of our councillors to be as well. Nobody should feel uncomfortable approaching myself or councillors. Alternatively, you could also feel free to contact us in ways available through the town."
Prokop also touched on the fact Taber was approaching a population to qualify as a city.
"I'm really looking forward to this term on council and I believe it'll be another proactive council — I see many bigger and better things to come. We're at 9,000 people and if we get to 10,000, we can get city status which has a plethora of benefits attached to it. That's one goal for sure, and a part of that is just retaining our residents, continuing our focus on economic growth, and expanding our recreation opportunities. This Meadows Project is relatively new, but with 302 residences to come, we're hoping to help fill that gap that we knew was there back in 2017. Once that comes to full fruition I believe the possibilities for Taber may be endless."