Local bus driver wins Driver of the Month award
Posted on October 27, 2021 by Taber Times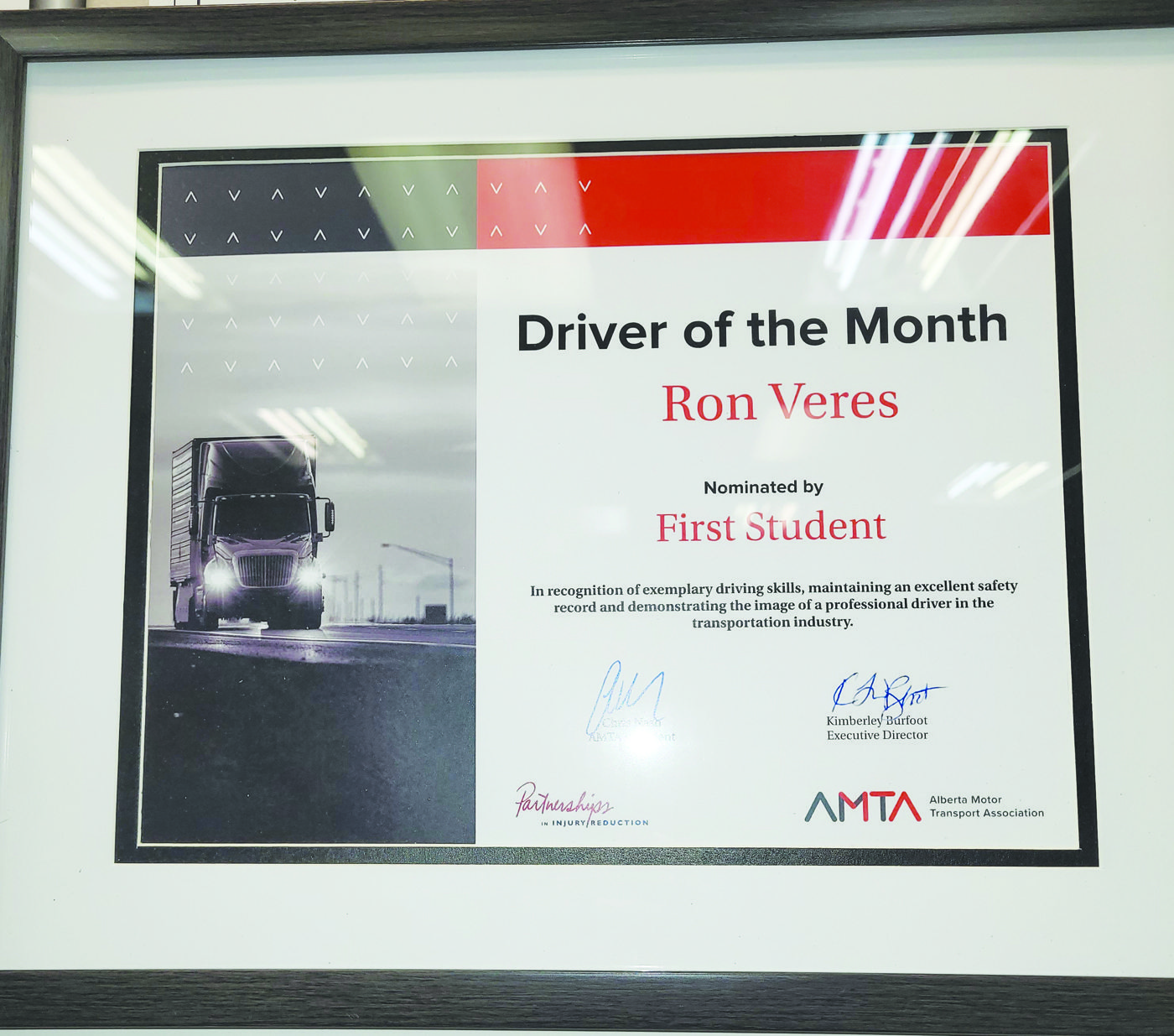 By Kenyon Stronski
Local Journalism Initiative Reporter
reporter@tabertimes.com
The Alberta Motor Transportation Association has had a Driver of the Month award for some time now, however, until just recently, bus drivers were not eligible to receive the award. In Taber, Ron Veres was the first bus driver to ever receive the award.
"I've driven all my life," stated Veres. "I started when I was 11, and I've seen many, many bad accidents in my years on the highways. You're taking a chance every time you step in a vehicle, and I find there are more dangerous drivers now than ever before. I've had some close calls, but I've always been taught to be a defensive driver and I've always tried to improve and keep an eye on the other guy on the road. I remember I was almost hit by a semi a month and a half after that accident in Saskatchewan and I'm just glad I was watching. I think when scary things like that can happen on the road, it really pays to be just a little bit more careful. To be recognized like this, when there's probably thousands of drivers out there with the same record I have is really remarkable and it blows me away to think that I'm getting recognized. I'll gladly accept the award for everyone that has the same record I do because it's really not easy to do that out there."
Veres has been driving a bus for 10 years, and before that, he worked for UniFirst for 35-and-a-half years and was employed as a service manager for 24 of those years.
"I hired and trained staff to be out on the road, and I have spent a lot of time on the road; it's really just a passion. I can get in a car and drive for 12 hours straight. I retired at 66, but after a few weeks home I knew I wanted to get back out on the road. I never really had a nine to five job, and I chose to be a school bus driver back then because I didn't want to be away from my wife too long anymore."
"I want to thank Linnette for submitting my name. Honestly, I submitted a write-up for what I thought a safe driver was, and then honestly just forgot about it and never really expected anything so it's truly amazing."
Before now, only Class 1 and Class 3 drivers were eligible to receive the award.
"Bus drivers are professional drivers just like the others, so I have no idea why there weren't included before," commented Linnette Triska, office administrator for First Student in Taber. "They deserve the awards and recognition just like the Class 1 and 3's get. They didn't explain why bus drivers got included, but I'm very glad they finally did. Ron is my knight in shining armour — he shows up every day and always has a positive attitude. He has the respect of his fellow drivers, the respect of the parents, and the respect of the kids — I've never heard a bad word ever said about Ron. He mentors new people that come in, in a way that doesn't make them feel like an idiot when they ask questions. He imparts his experience and wisdom to make them better drivers and I just knew he was the perfect one to nominate."
Triska mentioned it's quite significant for Taber to receive this award because it shows how we have, "capable, confident and professional drivers in town."
"Taber produces some quality people and it's overlooked in so many ways. We're overshadowed by the big cities, but we have a lot of great talent here and it's time to start focusing on it, along with the rest of Alberta. We're a small town but look at what we can produce — there are so many amazing people here that don't get the recognition they deserve; not just bus drivers. We have so many great people out there that don't get recognized in one way, shape or form so anytime something like this comes along I want to find somebody and I want to get their name in the hat."
It is widely regarded that bus drivers are the most under-appreciated of the professional drivers out there, and don't receive the same respect that other professional drivers do.
"People think it's not that hard until you actually get behind the wheel. You have five to 50 screaming kids behind you, you have to pay attention to them, to the other drivers, to the road conditions and know where your next stop is. There's so much going on in such a short period of time — they're amazing at their organizational skills to make sure they get where they're going on-time every time."