Parkside Manor ready to restart fall activities
Posted on September 1, 2021 by Taber Times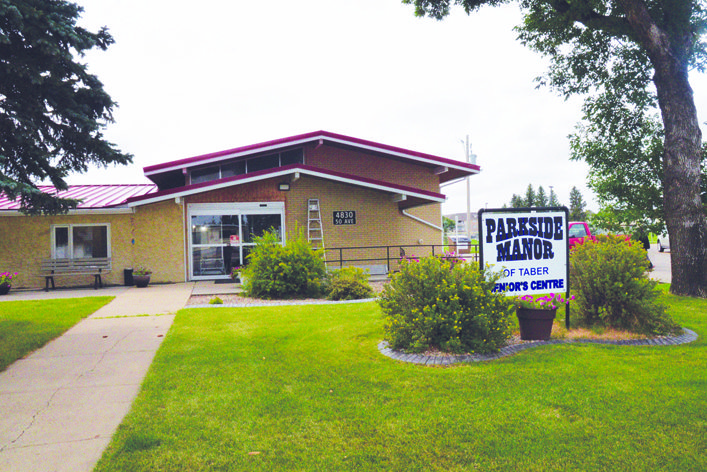 By Cole Parkinson
Taber Times
cparkinson@tabertimes.com
As fall reaches southern Alberta, Parkside Manor is ramping up their activities as they welcome members back into their facility.
With COVID-19 restrictions not allowing any of their groups to get together for the better part of 2020, the group is now full steam ahead this September after Alberta opened up fully on July 1.
"We're trying to get started. We've been shut down here for basically a year and a half, nothing has been going on," said Ray Bryant, president of the Parkside Manor board.
With the facility leased from the Town of Taber, the group says the partnership has been fantastic. Since the pandemic hit, many upgrades have been ongoing at the facility.
"We have some late minute upgrades still happening at the facility, and we've had a number of upgrades happen over the last little bit," added Bryant. "It's been really great working with the Town of Taber in terms of getting the facility looking good and keeping it maintained."
With some work still going on at Parkside, the group is excited by all the upgrades for when members walk back into the facility.
"We've had the hall painted. We had a number of holes, for whatever reason. We have a cart with tables and those things and sometimes I think the cart got a little out of control and when you're talking about drywall, you get holes. So we had all of that patched up and they painted the interior of the hall," continued Bryant. "We got new carpet in the entranceway and that was done a bit ago during the break. We had some old cedar in the entranceway and they recently ripped the cedar down and replaced it with drywall. They're painting that right now."
"There also was a wall (along the back of the hall) which made this much shorter and they opened that all up for us before they did the floor," added Colene Bennett, former president of the board. "We had a little room where we kept the chairs and tables in. Now we can use the facility right to the back."
On top of that, several rooms have been painted, new lighting has been added throughout, and air conditioning was installed in the loft area.
"They've really done an amazing job and with a lot of it, they've gone above what we've asked for," stated Bryant.
While they estimate to have around 170 members currently, they're still looking for more. Membership runs $10 a year and the age to join starts at 60.
"(Membership) has been pretty consistent the last couple of years. We're hoping we can maintain or even increase the membership," said Bryant.
Members can also look forward to dinners on the second Wednesday every month, with every fourth Wednesday of the month being soup and sandwich. Around 60-70 members participate in the monthly dinners, according to the board.
"That's a biggie for us and for the community to have that many people come out for the monthly dinner. It's really nice to see," added Bryant.
Later this year, the group will be hosting its annual Christmas dinner.
"We host a catered Christmas dinner the first weekend in December. Any member can bring a guest that is not a member, as long as we know," stated Linda Coney, board member for Parkside Manor. "It's a pretty good evening."
"It's a special evening and we try to come up with some draws and some entertainment to make it a nice outing for the seniors," added Bryant.
Another exciting development coming back for the fall is the fact cards are starting again at the manor.
"Cards are a big activity for utilization. We have a Whist group that plays every Monday afternoon, Wednesday afternoon we have Crib, Thursday afternoon we have Bridge, Friday afternoon we have 31 and Thursday evening we have Smear," continued Bryant. "The card groups all have to be members. That is a big activity that happens on a daily and weekly basis. Generally, cards will go until the end of June and then we take the summer off."
With COVID-19 shutting down social gatherings, the card groups haven't been able to get started regularly since early 2020.
"Because we've been shut down for a year and a half, they wanted to start the cards right after the long weekend and that was just fine because everyone needs to get out and get busy again," added Bryant. "The card groups play here, but some of the groups — Cribs and Whist in particular — there are tournaments hosted around the south in Lethbridge, Bow Island, Vauxhall, and Hays. Groups from our senior centre go to other senior centres as well. That is an offshoot of the card scenario, so you can meet seniors from other centres."
While card players are eagerly getting ready, the board is looking for feedback on additional activities the membership would want to see.
"We wanted to be more than just cards and we're trying to come up with other ideas," said Bryant. "We want more participation and we want to find other activities that will encourage that. Even to just come out to the monthly dinner or soup and sandwich to socialize."
"We started Bingo last year and it did pretty good," added Jeanelle Bryant, board member for Parkside Manor. "That's one we'll probably get more out to because we started it in the middle of the year."
Another highlight by the board was the chorus group.
"We have Parkside Choralaires, the chorus group. This is their home base and they typically practice Tuesday afternoon," said Bryant.
At this moment, the Parkside Choralaires are in search of a pianist, and it was stated you can reach out to any of the board members if you're interested. Heading into the fall, the group is happy to just have members back in the facility and using it as it was intended.
During the course of the pandemic, they had to dip into some of their reserves as the facility was unable to open due to restrictions.
"When you're shut down for a year and a half, you don't have any revenue coming in and then some of your expenses are less as well. Typically speaking, we have about $1,000 in expenditures whether we use the facility or not because you still have to pay for power and water, and all other utilities and insurance. Fortunately, we had a couple of dollars set aside so we tapped into some of our reserves in order to make ends meet and pay the bills," explained Bryant.
The group also explained the building can be rented by anyone in Taber with it starting at $30 an hour, up to a maximum of six hours for a total of $180.
"In the community for when you retire, you still need to be involved. This is another way of being involved. Whether you play cards or sit on the board or the social activities," continued Bryant. "You meet a number of new people and you create a new circle of friends."
Parkside Manor executive includes Ray Bryant (president), Colene Bennett (past president), Gladys Klics (treasurer), Peggy Brown (secretary), Jeanelle Bryant, Linda Coney, Chris Donahue, John Klics, Dave Klimack, Ed Pardoski, Joyce Planger, Frank Smolnicky, and Jack Young.