Taber Players to return to the stage
Posted on August 11, 2021 by Taber Times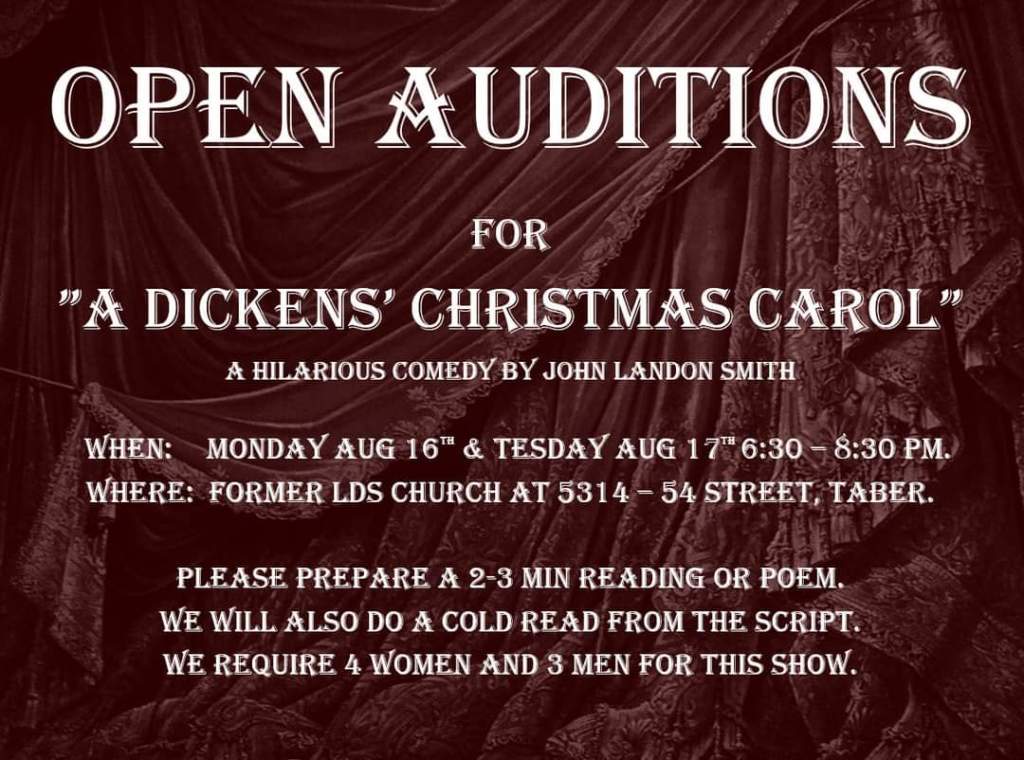 By Stan Ashbee
Taber Times
editor@tabertimes.com
As the old live theatre saying goes, "The show must go on" — and so it will, once again thanks to the Taber Players. There's an open audition for the group's upcoming live production of "A Dickens' Christmas Carol" — which is a hilarious comedy by John Landon Smith. Audition dates are Aug. 16-17 from 6:30-8:30 p.m. at the former LDS Church at 5314 54 Street in Taber.
Taber Players' President Jocelyn Steinborn said the organization held its Annual General Meeting (AGM) this past Tuesday to secure two new board members. "Some of our people moved away, we're a little thin."
As for the audition, organizers have asked participants to prepare a reading or poem (two to three minutes in duration). "We will also do a cold read from the script. We require four women and three men for this show," organizers stated.
"It's always a bit of a struggle to get men in Taber. The last one, we tried with an all-women cast. It's a play about a play. But, it actually tells the story of 'A Christmas Carol.' For those people who really like that, as Christmas approaches, to watch or view on TV — this actually does that. But, it's a comedy," Steinborn explained.
A venue hasn't been secured yet for the upcoming production, Steinborn pointed out. "Last time, we went with the Legion. What we're hoping is Nov. 18-20 and Nov. 25-27."
Also, because our director is from Coutts, "we're considering taking the show on the road to Milk River."
Steinborn added organizers are also considering the idea of a dinner theatre too for a few of the dates. "In Milk River, where our director is also involved in theatre there, their dinner theatre is very popular."
"It's all very fluid right now until you get a cast. And then, we can move forward," Steinborn said. And, "everything has been on hold because of COVID-19 for everybody. That's why it's still very tentative."