Exciting infrastructure projects underway in Taber
Posted on June 9, 2021 by Taber Times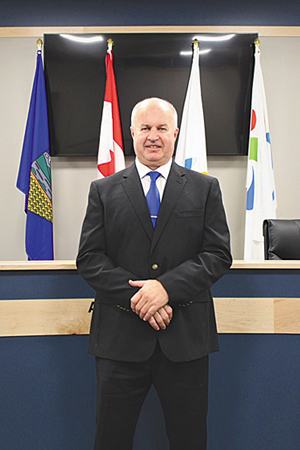 By Trevor Busch
Southern Alberta Newspapers
Some exciting infrastructure projects are on the launch pad or nearing completion for the Town of Taber in 2021, and Taber Mayor Andrew Prokop highlighted some of the benefits for local and regional residents.
Tied into the town's re-development of the Trout Pond area, just west of the community, a new Highway 864 intersection is receiving some finishing touches — while a full walking trail loop has been completed.
"We're nearing completion of the Highway 864 — 56 Avenue intersection," said Prokop.
"That's a $3.2 million project that's due to be done in the next week or two. That's a pretty exciting venture and addition to the Town of Taber. It also included about another kilometre of the walking trail that completes our loop, the entire Town of Taber walking trail system. That starts right at the Trout Pond entrance, right down to 56 Avenue, and a little east of the Highway 864 intersection. That gives us about 15 kilometres for the complete walking trail system. That also includes many trails the Trail 77 group has added, just within the last year or so, for the purpose of the mountain bike riders, in the Trout Pond area, as well."
Prokop, who recently announced his intention to seek re-election as mayor in October, was a key figure in pushing forward the re-development of the Taber Trout Pond into a recreational area and campground during his present mandate.
"We've had the Trout Pond opened up since 2018, and the campground was added on last year with the nine-site availability there. That's opened up and running, and that now completes Stage 3 of five phases. That's exciting, it's still moving along, still a work in progress. It's been a huge benefit, very well-used, and very well-received by our Taber and area residents. So we're pretty excited about that."
With an eye to attracting more residents and labour to the community, the town is also spearheading a $5.9 million, 302-lot affordable housing project in the town's northwest that will be known as The Meadows.
"In 2018, we purchased a 60-acre parcel south of the cemetery, which is now underway with landscaping and all the construction work that needs to be done," said Prokop. "That project is now 90 lots in the first phase of the total 302 lots that will be available over several years for manufactured housing."
Lots will be in the $67,000 – $77,000 range, with cost for a manufactured home on a lot pegged at between $200,000 – $240,000.
"It's huge for economic growth and benefit for the community and area. We're very excited about that, it's been a long time coming and it's now started, and the actual lots are now for sale for the first 90 that are going to be available. It's a very exciting project, and very much needed, so definitely a win-win for the community growth-wise and economically-speaking, as well."
Also currently on the drawing board is a constructed wetlands project located in the southeast — close to the intersection of Highway 3 and Highway 36 North.
"We're entering the engineering phase with a $7.2 million wetlands project, just north and east of the sugar factory. We got a $6 million in grant funding from the province and federal government. That's now underway on a 22-acre parcel that was obtained for that purpose."
Prokop indicated the project is expected to be completed over the next several years.
"It's a pretty major project, and looks to include (a) boardwalk type of set-up. That's down the road, for the end-all completion. So it's going to be a benefit for recreational enthusiasts, photographers, birders, people that have an interest in that kind of wetland area."
"That's just another benefit, ideally the purpose is to turn stormwater into usage for potable water, that can be made (for) use of down the road."
Trying to put the pandemic firmly in the rearview mirror is a top goal for the community in 2021.
"It's very exciting the amount of projects we've got going on for 2021. We're just trying to put this pandemic behind us and continue to move forward positively, as best we can — and hopefully get back to some form of normalcy sooner or later, as we'd all like to see."