Volunteers help make the world a better place
Posted on April 21, 2021 by Taber Times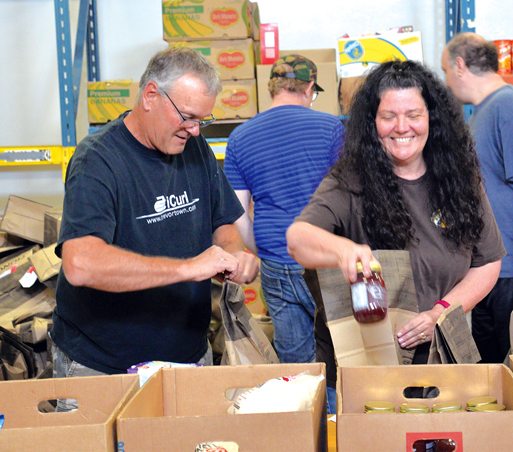 TIMES FILE PHOTO
By Stan Ashbee
Taber Times
editor@tabertimes.com
Volunteer Week is this week, April 18-24. It's a time to celebrate the volunteer spirit of community members that give of their time, skills and caring nature. Volunteers simply — help make the world a better place! According to co-manager Leah Jespersen, the Taber Food Bank couldn't exist without the local non-profit organization's volunteers. "We're pretty low on staff, so everything else is done by volunteers," Leah added.
Food bank volunteers, Leah noted, do everything from donation pick-ups at local stores to inspection of donations for expiry dates and freshness to stocking shelves to deliveries. "They clean for us, they organize for us, they help look after clients for us — and they shovel the walks for us. It's just non-stop."
Naomi Wiebe, co-manager, pointed out the food bank had 21 volunteers in March, and volunteers served a total of 360.75 hours. "We have gone up and down a little bit with COVID-19, due to spacing requirements and physical distancing policies."
"Some of those volunteers are volunteers that come in for just a couple of hours one day a week and some of those people are people who are here three or four days a week helping us," Naomi said.
Taber Food Bank volunteers, Naomi said, are amazing. "We couldn't do what we do without them. They're phenomenal. They just help us so much. Volunteers are so important in the community and across the country."
Naomi added the food bank wouldn't be able to operate without its volunteer board members either.
"They give us our policies and guidance to help make sure we run efficiently."
Leah said the food bank's volunteers are wonderful people. "We've had some really long-term ones, as well. We just couldn't do it without them."