Local businesses turn to The Great Outdoors with patios for patrons
Posted on April 21, 2021 by Taber Times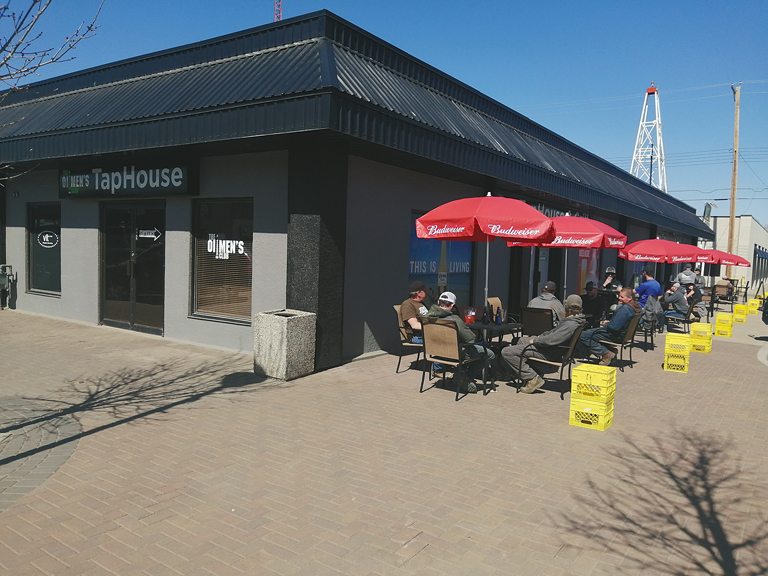 By Stan Ashbee
Taber Times
editor@tabertimes.com
There's nothing quite like a stellar outdoor patio to sit and contemplate the beauty of a spring or summer day, while sipping on a favourite bevvie and nibbling on some pub grub.
But, recently many businesses in southern Alberta have had to adapt to the province's new restrictions on in-person dining and instead turn their establishments into patio seating only with take-out and/or delivery options (which many restaurants, pubs and the like had to do previously during other Alberta Health restrictions this past year).
Locally, the Oilmen's Club in Taber turned to the great outdoors to allow the business to continue to serve customers and keep cash flow coming in and some employees employed.
Owner of the Oilmen's Club since 1989, Darcy Hertz said the bar has never had a patio before, but with COVID-19 restrictions, " I had no choice if i want to have any kind of business whatsoever. I have to adapt and put in a patio."
According to Hertz, the Town of Taber, the Taber Fire Department and the AGLC are easy to get along with under circumstances like this. "They don't rubber stamp it, but they make it a lot easier for people like me in the restaurant/bar business to try and survive."
"When I say survive, I don't mean break even, or make a profit — I mean try to keep some of your staff with jobs and trying to lose the least amount of money. It's definitely not a money making proposition. It's a matter of can we keep some people working and can we lose less money by having a patio," Hertz admitted.
Instantly, Hertz continued, as soon as a patio is added, owners have to go out and spend more money. "And it's not the right time to be spending money, but you have to. You have to buy patio chairs, patio tables and you have to get umbrellas. You have to retrain staff on how to deal with outdoor people."
"It's hard, but it's better than doing nothing," Hertz said. "It's so hard to run a restaurant or a pub under these circumstances."
When the AGLC, the town and the fire department allowed the Oilmen's Club to put tables out on the sidewalk, Hertz said, it doesn't go unnoticed. "That's unbelievable of them to allow us to do that and I truly thank them for giving us a chance to keep some jobs in this town."
Normally, when a pandemic isn't ongoing, the Oilmen's would have 10 to 12 staff. Currently, there are only a few staff on-tap. Outside the Oilmen's Club there are presently six tables with four chairs on the patio — "which allows 24 people."
"But, 24 people is 24 times better than zero people," Hertz added. The normal capacity pre-pandemic inside was 170 guests. The patio was opened early last week.
With the patio, Hertz said, it allows a few more hours for a few staff.
"Hopefully, the patio will pick up and we have to add more tables and more chairs. But, that's up to the people of Taber. I really hope they come out and support all the bars and restaurants they can because we're the guys that sponsor their ball teams, sponsor their golf teams and sponsor their kids' events. We're calling back in the favour — all of us in this industry are calling in the favour. It's time to come back and support us. I really hope people in Taber do that, I really do."
Right now, the Oilmen's Club patio will be open from 11 a.m. to 8 p.m. Tuesday to Saturday.
"Sometimes, we'll stay open later," said Hertz.
Wings Wednesday and Friday nights are usually very popular and this may allow the patio to be open until 10 p.m. on busy nights. Government regulations state establishments must close their doors by 10 p.m. to comply with new restrictions.
"If people support us more, on that patio, we will open on Sundays and Mondays again, like we normally do," said Hertz.
Other restaurants, pubs and bars in the community are also creating patio space to keep money flowing and staff employed — while providing services.