Setting clear rules for police to respect rights
Posted on April 14, 2021 by Taber Times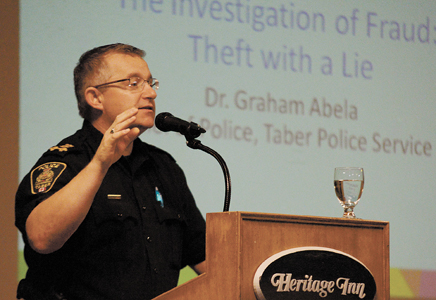 TIMES FILE PHOTO
By Stan Ashbee
Taber Times
editor@tabertimes.com
Bill 63, the Police (Street Checks and Carding) Amendment Act, 2021, would continue the work to reform policing in Alberta.
According to a recent media release, the proposed bill formalizes the ban on carding and guides how street checks are done by amending the Police Act to provide clear definitions of carding and street checks.
It also puts into law the authority to conduct a street check and create regulations that would make sure there are rules in place around street checks.
"We're keeping our commitment to have a clear set of rules to ensure police respect Albertans' rights. Putting into law the outright ban of carding and making sure there are clear rules around street checks is just one action government is taking to reform policing and combat the legacy of institutional racism that still pervades too many parts of society," stated Kaycee Madu, minister of Justice and Solicitor General.
If used properly, street checks can be a helpful tool to combat crime. With regulations to guide the consistent use of street checks, Albertans can be confident the practice is done in a way that respects all people's rights.
Regulations would provide clear guidelines on, among other matters, the circumstances in which street checks may be conducted, how information obtained through street checks may be used and retained, police officer training and public education.
Under the proposed legislation, data collected through a street check must be provided voluntarily.
If this bill passes, street check regulations will be developed and implemented this year.
Taber Police Service Chief Graham Abela said the Alberta Association of Chiefs of Police were greatly involved in the amendment discussions with the minister.
"Surrounding what street checks in the province could look like. We were always absolutely not in favour of the practice of carding that was occurring in other jurisdictions, mainly in eastern Canada. That was not our practice here," said Abela. "It's not something we wanted to see come to Alberta."
There were some questions from the legal perspective, as to the practice of street checks. "There wasn't really anything codified that permitted it. It was more of a common law practice that police had undertaken for as long as policing has been in place," Abela added.
"But, we're happy the minister has taken steps to put it into legislation and to allow the practice of street checks to continue and doing so on a consistent standardized format throughout the province," said Abela.