Cypress County approves one-time $250,000 investment for HALO Air Ambulance
Posted on March 31, 2021 by Taber Times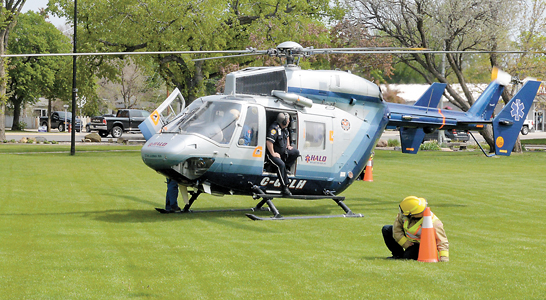 TIMES FILE PHOTO
By Gillian Slade
Southern Alberta Newspapers
Cypress County announced a significant and multi-year funding agreement for HALO helicopter air ambulance service recently.
Cypress County council approved a one-time investment of $250,000 for HALO to help to compensate for the fundraising challenges the organization has experienced during the pandemic. Cypress County also renewed its commitment to the HALO program with a new investment of $300,000 each year for the next three years.
"Cypress County is very excited to work with HALO. It is a vital asset for citizens and visitors alike," said Tarolyn Aaserud, chief administrative officer of Cypress County.
"As a southeastern Albertan I feel so blessed Cypress County has chosen to enter into this partnership."
Cypress County Reeve Dan Hamilton said, in a media release, the investment is a commitment to a fair and equitable funding model for HALO. In the last four years, HALO has responded to more than 30 per cent of the annual calls for services such as air ambulance, search and rescue, fire and law enforcement support plus disaster response within the county between 2018 and 2021.
Paul Carolan, CEO for HALO, called the announcement a significant step in securing operational funding through partnerships with municipalities in HALO's response area and also the provincial government.
The plan is for each partner to provide about one third of the current $3 million annual budget, said Carolan.
This will enable HALO to continue to provide life-saving helicopter emergency medical services throughout Cypress County and southern Alberta. Carolan called it a "game changer." It's the difference between living month-to-month and being able to depend on financing for operations. It also speaks volumes to the provincial government, in terms of its necessary financial support.
"It demands a response from them," said Carolan.
Michaela Glasgo, MLA for Brooks-Medicine Hat, was at Cypress County's offices for the announcement when a HALO helicopter landed at the county's offices. She says she has been talking with Minister of Health Tyler Shandro about funding for HALO and is "feeling hopeful" there will be government financial support.
Glasgo says a review of EMS funding, by Alberta Health, has been delayed due to the COVID pandemic, but she thought there was a possibility of something happening within a couple of months.
Dale Thacker, chair of HALO, said the funding from Cypress County allows HALO to plan into the future and solidify its program.
This is key to being able to operate plus also focus on additional aspects of the organization, as opposed to continually working on raising the necessary funds to meet the budget.
In October 2019, HALO's budget was $2.6 million operating the BK-117 twin-engine helicopter.
Currently, the budget is $3 million annually.
Thacker says the additional $400,000 makes the operational budget "bulletproof."
Previously, the organization made it work with whatever it could — but it is now able to make long-term decisions.
Thacker says HALO weathered a tough storm financially last summer and has proven it was sustainable.
"Cost effective and good value," said Thacker. "We won't disappoint on delivery."
HALO is a helicopter medevac service based in Medicine Hat and has been dedicated to southern Alberta since 2007.