'Light at the end of the tunnel is here' — Taber Lost Paws' new build complete
Posted on February 10, 2021 by Taber Times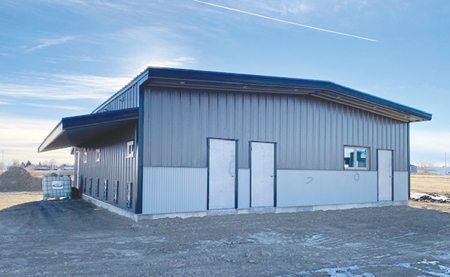 TIMES FILE PHOTO
By Stan Ashbee
Taber Times
editor@tabertimes.com
An official "operational day" for the new Taber Lost Paws Society animal shelter is slated for this week. The new building is located in north Taber, just east of Safe Haven.
"That's huge news for us. We've been fundraising for two years now. We've actually got to the point where our building is just on its completed stages. We're still needing a little bit more work done in the spring, when the weather is nice like the sidewalk in front of the building, the cement work in all of the outdoor kennels and the walls for the outdoor kennels," noted society President Carolyn Terpstra.
"We don't need every little thing done to be operational, because the kennels will be completed. If there are dogs available in the community bylaw has to bring in, the building will be completed for the dogs," Terpstra added.
Thanks to fundraising efforts, the society has been able to fulfill a long-term goal. One recent fundraising initiative was the society's Lost Paws calendar.
"We only started off with 500 last year. We sold around 450. It's a really good fundraiser for us. We actually increased our numbers up to 750 this year," said Terpstra, adding calendar sales started in November 2020.
"We still have some left. We're probably down to the last 150. We're trying to really push that and trying to get those done, so we can get all the fundraised money from the sales of this calendar. We have them in some of the local businesses. Members of the executive also sold the calendars and it is being sold on the society's Facebook page.
"It was just really trying to get it out there," Terpstra said. "We are still fundraising."
There's always some unexpected costs here and there, Terpstra pointed out.
"We really rely a lot on our community to help with support. Some people have donated their time, some people have given us donations, we're still applying for grants. We're still doing a lot to keep raising money for the facility. We want it to be successful and we want to have it completed."
Plans are in the works for an official grand opening of the new facility in the spring or early summer.
"That way the perimeter fencing will be complete and the outdoor kennels will be complete and landscaping to make it look like a nice little dog facility for our community," Terpstra said. "I'm sure it will get well-used."
Terpstra said the society also has a 50/50 draw fundraiser this month that can be accessed through its social media pages.
Right now, Terpstra encourages Taber Lost Paws volunteers to help fill in some time slots to help feed and walk the dogs, since there is currently no outside perimeter fencing.
"We are relying on our volunteers, because we are all volunteers. There's no paid positions for this animal shelter. It's only for dogs. We don't have cats, at this time. That might be something we might have to do in the future. But right now, we just need to get our feet wet and learn all the ins and outs and get everything done the way it should be done."
"We look forward to a great successful year," said Terpstra. "The light at the end of the tunnel is here."
Donations can be made through ATB.cares under Taber Lost Paws animal shelter with receipts or contact Carolyn Terpstra, president.
"We are looking forward to being operational this week," added Terpstra.