Province dropping license plate stickers
Posted on January 6, 2021 by Taber Times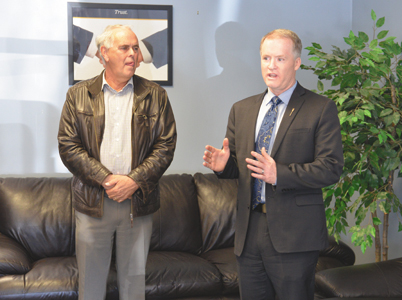 TIMES FILE PHOTO
By Trevor Busch
Taber Times
tbusch@tabertimes.com
Starting Jan. 1, Albertans will no longer require expiry stickers on their licence plates as the province moves toward adopting reflective plates.
Due to advances in technology, stickers marking the month and year of registration, as well as stickers for fleet vehicles and permanent trailers, will no longer be issued in 2021. Taber-Warner MLA Grant Hunter pointed out Alberta has been lagging behind other jurisdictions in moving to implement this kind of initiative.
"Quebec's been at this since 1992, Saskatchewan in 2012, Manitoba in 2016, Northwest Territories in 2014. This just goes to show that red tape reduction is not a partisan issue. Some of these places — in 1992, Quebec was not a conservative place — yet they recognized that a best practice is a best practice no matter what political stripes you have."
In fall 2021, Alberta will transition to high-definition reflective licence plates. The reflective plates are more easily scanned by automated licence plate readers, which will assist law enforcement agencies using that technology to validate licence plate registration at roadside. While some law enforcement in the province currently have the automated scanners in place, others will be required to upgrade their technology.
"The RCMP do, they already have that right now, but Calgary and Edmonton will have to get that," said Hunter.
Reflective plates will be issued on a go-forward basis after the current stock of painted licence plates runs out in the fall.
"You don't have to have the reflective plates, you don't have to trade your older plate — if you have a special attachment to that plate you don't have to trade it in," said Hunter, who also serves as associate minister of Red Tape Reduction. "That's something that as time goes, more people will get on to this obviously, but it's not something you have to do."
Alberta drivers and vehicle owners will still be responsible for renewing their registration on time, and will still require a valid certificate of vehicle registration.
Albertans can sign up to receive an electronic renewal notice through a registry agent, the Alberta Motor Association, or MyAlberta eServices.
"The reflective plates, they're specifically designed as a new technology that is being used for helping police services to be able to run plates quicker, and be able to be just a faster way to be able to go about it. But we don't have to have everybody — if people have a nice old car, they want a nice old plate, they can still use those plates. But they don't have to put the sticker on, which is kind of an exciting thing."
Hunter highlighted the change will represent a significant savings for provincial taxpayers.
"The cost of this program is about $1.2 million to create, distribute and store the expiry stickers. So that's going to be a savings that all Albertans get to enjoy."
There are more than 5.5 million vehicles registered in Alberta. Stickers will still be required for farm vehicles and prorated commercial vehicles participating in the International Registration Plan. Vehicle registrations expire at midnight on the last day of an assigned month, based on surname or company name.
Alberta's government first required registration expiry dates to be visible on Alberta licence plates in 1974.