Shop of Wonders making Christmas brighter
Posted on December 16, 2020 by Taber Times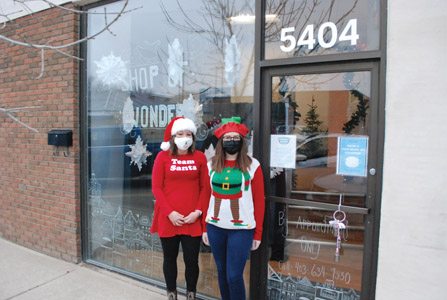 CHRISTMAS FOR ALL: Martha Bueckert and Erin Wind outside their Shop of Wonders ready to bring holiday cheer to anyone who just needs a little bit of help this year. TIMES PHOTO BY IAN CROFT
By Ian Croft
Taber Times
This year, a shop in Taber is making sure everyone can have a magical and wonderful holiday season.
The Shop of Wonders is open once again this year, and will be open by appointment only untill Dec. 18 from 9:30 a.m. to 4:30 p.m. You will be able to make your appointment online at myvictory.ca/shopofwonders or call (403) 634-9530. The Shop of Wonders has a building this year thanks to Edwyn Ellingson from Willowcrest Construction/Quark Management Corp. It is located downtown inbetween Pro Performance Athletic Centre and the Grant Hunter MLA office across from Paradise Gardens.
"The Shop of Wonders is for families who are just having a really difficult time this year," said Erin Wind, spokesperson for the Shop of Wonders. "Especially in this season and for those who are just falling short and are unable to provide Christmas gifts or if they have to choose to pay a bill. We just want to make sure that everybody has Christmas especially with everything that's going on in the world."
Once you have registered for appointment and arrived at the indicated time, you will be able to choose three presents and three stocking stuffers. One of the three presents you are able to pick is a Santa present while the other two are elf presents. These presents will then be wrapped for you.
The Shop of Wonders is also giving out hygiene packs which will contain hair conditioner, shampoo, body wash, and deodorant. The hygiene packs will also contain underwear as well as an option to get necessary items for babies such as diapers, socks, and blankets. These hygiene packs will not count as one of your presents and are designed for people who are in need of these essential products. All of these items were donated by businesses in Taber and from the Central School and St. Patrick Elementary School toy drives.
"All the toys that we have in the shop is the community pulling together and donating to us," said Wind. "Without the community we would not be able to do this program. So we're really appreciative of all the donations."
The Shop of Wonders is also taking the necessary precautions to help prevent the spread of COVID-19. As mentioned earlier, the shop is only operating by appointments and everyone is required to wear a mask. In between appointments the staff will be sanitizing everything and will also be changing their gloves. The people who come into the Shop of Wonders are not allowed to touch anything and must maintain proper social distancing which is indicated by stickers on the floor. Once the gifts have been selected the staff will bring them down to the wrappers who will also sanitize their hands before wrapping the presents.
The Shop of Wonders has so far managed to help out 68 families and ensure that 216 kids were able to have Christmas presents this year.