Mayor Prokop still encouraging a buy local mentality
Posted on October 21, 2020 by Taber Times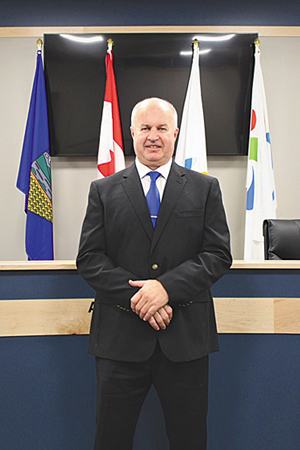 By Cole Parkinson
Taber Times
cparkinson@tabertimes.com
While 2020 has certainly been a hard year for Canadians across the board, the Taber area has remained relatively open since the beginning of summer much to the delight of business owners.
With Small Business Week running this week, the need for shopping local has been magnified with how hard local establishments have been hit due to the COVID-19 pandemic.
Non-essential businesses were told to close their doors for several weeks in the early spring which had a massive impact on shopping in the Taber area but the town is now seeing things get closer to what would be expected heading into the winter months.
"As you are aware, the businesses that were closed due to not being considered essential services, that was definitely affecting those businesses," explained Taber Mayor Andrew Prokop. "We tried to help in relation to the town with rental prices there and that was dealt with back a few months. It had impacts on any business and particularly those that had to close per AHS rules. I think in talking with businesses that remained open or who have re-opened, it's been a bit of a struggle but they seem to be coming along. Things are slower, but it's improving and things seem to be getting better day to day. I wish them all the best and we are certainly doing anything we can to help."
In May, town council carried a motion to extended 2020 property taxes until the end of September along with the six per cent late tax fee.
Even though things have been slower than in a typical year, the town has still seen quite a number of new businesses open as 2020 nears end.
While the number remains influx as the year isn't over yet, the reports so far are encouraging for the town as they continue to see several new businesses open their doors.
"It's less than ideal and I don't have the exact numbers but I just signed off on 21 new home businesses here in the last few weeks. That is quite phenomenal in itself. Counting our home businesses, we usually are around the high 40s or 50 range for the year," continued Prokop. "Seeing that with just the home businesses, I've also visited several walk-in businesses in the last few weeks as well and those are new businesses generated. We are running right around 30 that I know of and I believe it is higher than that. I don't have the complete numbers but I will at years end. It's encouraging to see that and I think people always have that entrepreneurship. It's no different during the pandemic, people are still going forward. There's an impact no doubt for the province, country and world, but it's one of those things where you can't go backwards, only forwards. I think people are trying to do that and come out with an optimistic outlook."
The good news for residents not wanting to travel too far for their needs is the fact a large majority of Taber businesses are still open, though there have been additional safety measures installed to protect the public.
With it already being a hard year for many local businesses, Prokop is encouraging Taberites to continue to support their local establishments as they continue to recover.
"We, as a council, have always promoted for people to shop local as best as we can and residents can. I think overall, the community and area do that but I was certainly encouraged of that much more. Maybe people can spend more time in Taber and area as opposed to having to hit the big cities for shopping purposes. You always have to consider your backyard and support the area as best as you can."