Banditos continuing to establish reliable source of welding/industrial equipment with Taber shop
Posted on October 21, 2020 by Taber Times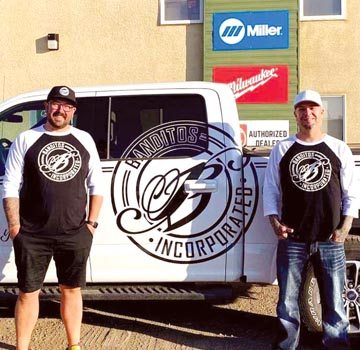 By Cole Parkinson
Taber Times
cparkinson@tabertimes.com
Earlier this summer, Banditos Incorporated established a brand new expansion location in the town of Taber.
With a noticeable source of frustration in locating and establishing a supplier of welding and industrial supplies in southern Alberta, Banditos formed in order to do just that nearby in Lethbridge.
Since 2014, the group has experienced even more success which has led to an expansion to Taber.
"Banditos Incorporated was originally established in 2014 to be an answer to frustration for many fabricators in the welding trade," explained Banditos vice-president Craig Bodnar. "Trying to find a reliable supplier of welding and industrial supplies was next to impossible until we came along. Therefore, we pride ourselves on giving our customers the 'The Service you Deserve.' This is also why we refer to our clients as fabrication family. Along with welding and industrial supplies, we offer many other services and items including pipe, valves and fitting, hand and power tools, experienced management team, project management and much more. Banditos is local no matter how many stores we have operating or see in the near future. We are community-minded and will go to the extreme to satisfy our clientele. Even if it's a small item or a one-time purchase, we treat you like family."
Opening in early June amidst a pandemic may not seem like the ideal time to bring a business to a new location, but early reports are all positive for the group.
"The Taber shop had its opening day on June 15, 2020. Some say it was a bad time during the uncertainty of our economy and the situation we are all in with the pandemic, but we felt opposite. The area still must grow crops, produce oil and gas and process potatoes and sugar beets to name few," continued Bodnar. "Business in Taber has been great. We have received a warm welcome from the public, our friends, and our families. Everyone that pops into the store to even look has returned to support us. Our management team is professional, experienced, and knowledgeable which helps every visitor to feel welcome. The Banditos group is professional but at the same time provides a fun, energetic atmosphere for our employees and our customers. There is lots of laughs and respect for each other here."
As far as why Taber was chosen as the next location, it was an easy choice says Bodnar.
"Taber was chosen for the second location for Banditos primarily because we are local. DeBona and I are both born and raised Taberites and have numerous friends and family in the surrounding area. Relationships have been created all over Western Canada, and all these great relationships have supported us over many years, but Taber is home."
Those looking for Banditos can find their new shop in the industrial area with hours Monday to Friday.
Banditos Inc is in the Industrial area of Taber at 6003 60th Ave next to Prime Auto Accessories. Our hours are 7:00 a.m.- 4:30 p.m. Monday – Friday, but you can usually catch (me) down at the store around 6:00 am. Our store phone number is 587-494-9245," added Bodnar.
Another big focus for the group is customer service and providing the best care for their customers.
Those looking to do business will be more than satisfied with Banditos explained Bodnar.
"Customer service almost seems obsolete nowadays until you deal with our group. We are bringing it back," he said, while also touching on how to keep up with all things Banditos. "Give Banditos a follow-on Instagram @banditosinc."