Taber men facing charges following ALERT investigation
Posted on October 14, 2020 by Taber Times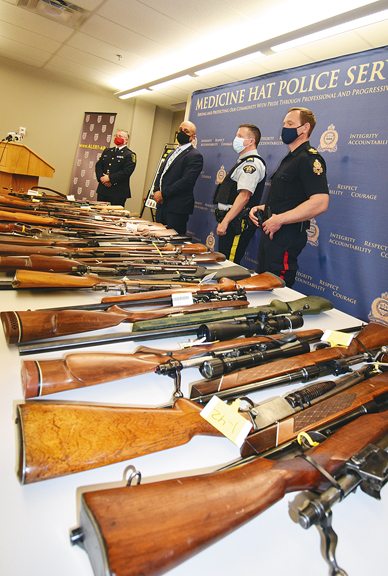 BIG BUST: Police officials discuss an investigation that resulted in 63 guns and a total of $200,000 in property being seized last month, during a press conference at Medicine Hat Police Headquarters last Wednesday. Police announced that four people from Taber have been charged in what they believe is a rural break-in and stolen goods trafficking ring. TIMES PHOTO BY COLLIN GALLANT
By Randy Jensen
Southern Alberta Newspapers
Authorities say they have broken a rural break-in ring that trafficked in stolen guns and cars that was based in Taber but operated throughout southern Alberta.
At a press conference in Medicine Hat last week, two folding tables displayed 63 long guns that police say were seized in raids of three locations last month. In total, $200,000 worth of allegedly stolen goods were seized including seven vehicles and construction equipment.
Five suspects face a total of 76 charges related to break-ins in at least nine smaller communities.
Taber Police Chief Graham Abela told reporters "some" of the suspects were "well known to police" and the area RCMP detachment.
He said the help of regional forces and the Alberta ALERT unit were critical in seeing the investigation through.
"We're a small organization and when we reached out, ALERT was there," said Abela, later adding "this will have a huge impact in our community."
Shawn Boser of the ALERT's Southeast Alberta property crime unit, which is based in Medicine Hat, said the partnership played a key role in the widespread investigation.
"We've been successful in targeting and ultimately disrupting a group of individuals that were terrorizing small communities with thefts and property crime offences," said Boser. "Widespread theft like this has a huge impact on community safety and especially in rural communities it shakes the sense of security."
Police believe the guns were trafficked to other criminal groups but did not expand on how long the operation was going other than to say it was well-established.
The investigation began in mid-July, said the Taber Police Service.
The raid was conducted on Sept. 11 and police had spent the last month cataloguing the items and returning all but the firearms to rightful owners.
Police say the goods came from break-and-enter robberies in a host of smaller communities, including Taber, Vauxhall, Bow Island, Seven Persons, Stirling, Vulcan, Coaldale and Barnwell. Some property was traced to as far north as Sundre, north of Calgary.
Four of the five men have been formally charged and have appeared in Lethbridge provincial court, said police.
Dustyn McCracken, 20, of Taber, is still at large, though warrants have been issued for his arrest including one for fleeing police.
He faces 15 charges in total, including possessing and trafficking stolen property, and theft of a motor vehicle.
Jason Pizzati, 46, of Taber, remains in custody and is charged with eight counts of possessing the proceeds of crime, six firearms trafficking offences and 17 counts of trafficking stolen goods.
Greg Kosowan, 72, faces nine counts in total related to firearms trafficking and two counts of possessing the proceeds of crime. Cornelius Wolf, 38, is charged with attempted fraud and possession of stolen goods.
Heinrich Wolf, 35, is charged with altering a vehicle's VIN identifier and forgery.
It is not immediately clear when they will next appear in court.