Funding evaporates for GLTC cannabis facility
Posted on October 14, 2020 by Taber Times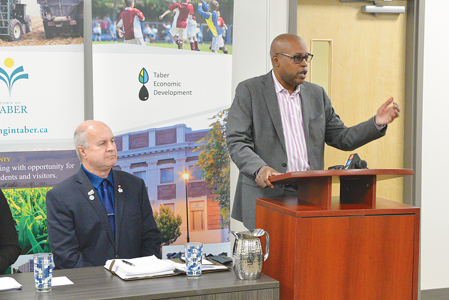 TIMES FILE PHOTO
By Trevor Busch
Taber Times
tbusch@tabertimes.com
Originally touted as a $100 million investment in the community with a potential for more than 200 jobs, the Grasslands Taber Collaborative project has assumed a holding pattern in late 2020 as pandemic impacts have eaten into investor confidence.
"Due to the COVID-19 pandemic that has seen an unprecedented slowdown of the economy and investments throughout Canada, the initial commitment of funding from partners has been lost for the Grasslands Taber Collaborative project," said GLTC CEO Lindsay Blackett a letter to council that was included as part of the Sept. 14 meeting agenda. "Our GLTC executive continues to seek funding partners for the project, but due to the pandemic the search has not yet been fruitful."
The planned facility is designed to be Canada's first craft cannabis, hemp and agri-food premium supply chain. Announced in mid-November 2019, if completed the GLTC is intended to be a craft cannabis and hemp cultivation, extraction and value-added premium supply chain housed on a 60-acre park in partnership with the Town of Taber.
The park was envisioned to become a "centre of excellence for the incubation and acceleration of cannabis, hemp and agri-food entrepreneurs."
"Basically due to the circumstances, and what's going on with the pandemic in and around the country, they've run into some difficulties with their potential funding sources," said Mayor Andrew Prokop. "That's kind of where that's at, and the rest is up to them whatever they do going forward, but at this stage there's no potential finalized plans. That may or may not happen here as the original plan was."
The park is intended to feature 10 turn-key cannabis and hemp EU GMP (European Union Good manufacturing process) and NHP (Natural Health Product) certified condominium bays for lease, a cogeneration power program providing a 15 per cent cost reduction in power, 25 lots ranging from 1.5 – 5 acres for sale for cannabis-based businesses, a hemp processing facility, and a retail mall for restaurant/catering, cannabis retail, a nursery and financial services tailored to the cannabis industry.
"Although times are difficult throughout the country, we are not deterred from continuing on our path to providing an innovative environment for the premium craft hemp and cannabis industry in Taber," concluded Blackett in his letter. "We are continuing to seek partnerships as the economy begins to strengthen and will certainly keep the Town of Taber informed of our progress. We look forward to continuing to work with the Town and being part of the growth of the community when we are able to secure funding."
In late 2019, GLTC was planning a tentative start-up date sometime in early 2021. GLTC's parent company is PeakTerra Ventures, an integrated holding company focused on creating opportunities in the emerging global cannabis and hemp industries.