Boycott UCP donors website making waves
Posted on October 14, 2020 by Taber Times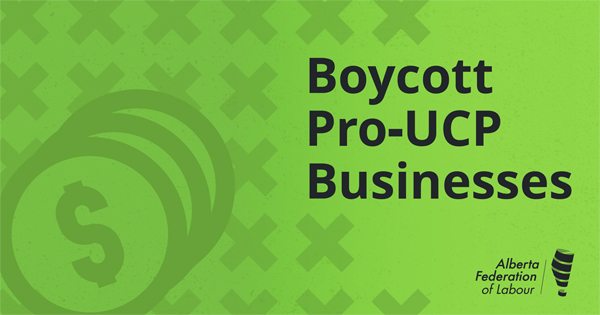 PHOTO FROM BOYCOTTUCPDONORS.CA
By Cole Parkinson
Taber Times
cparkinson@tabertimes.com
A new website launched by the Alberta Federation of Labour is asking Albertans to boycott businesses who are UCP donors.
Last week, http://www.boycottUCPdonors.ca went live after a press release from the AFL was released explaining "the goal of the website is to give Albertans the information they need to make informed consumer choices."
"These are the businesses that have been bankrolling the UCP agenda – an agenda that is kicking Albertans when they're down," said AFL president Gil McGowan in the release. "Why should a nurse, a teacher or a firefighter buy a car from an auto dealer who wants them to be fired or have their wages cut? Why should Albertans who believe in a strong public health care system and a strong public education system patronize a business that is cheerleading cuts and privatization? Why should workers spend their hard-earned money in establishments run by people who want to suppress their wages, eliminate their overtime, silence their voices and limit their rights? By bankrolling the UCP's destruction agenda, these businesses have made it clear that they don't support ordinary Albertans, so why should ordinary Albertans support them?"
In the list of 54 Alberta businesses, five were from Taber including McDonald Chevrolet, Ryan Torrie Professional Corp, SLM Spud Farms, Summit Motors and TFS Expanse Feedlot. 
"The Albertans who voted for the UCP in the last election trusted Jason Kenney to make their lives better," continued McGowan. "But now, a growing number of people are fed up. They're looking at what the UCP is doing to doctors, municipalities, schools, and post-secondary institutions. They're looking at the UCP's corporate tax giveaways. They're looking at the attacks on basic workplace rights and democratic freedoms. They're looking at all of these things and saying: 'That's not what I voted for.' With this website, we're giving Albertans a tool that will allow them to do something about it." 
McGowan would further state the website was about providing information for Albertans.
"These days, many people want to be informed and shop at local businesses that align with their values," said McGowan. "And they want to boycott the businesses that don't align with their values, it's as simple as that. Until Albertans can vote in an election, the www.boycottUCPdonors.ca website will help them vote with their wallets."
Since the website went live, the reaction from both the UCP and NDP party has been varied.
During the NDP's press conference on Oct. 6, questions were raised if leader Rachel Notley was in favour of the tactic of boycotting businesses who had donated to the UCP. 
Instead of directly responding to the question around the AFL, Notley turned her sights towards Shaping Alberta's Future, an organization formed before the election that was a "free-market-oriented political action committee incorporated in the province of Alberta" and "was formed to promote the UCP".
"What I will say is, there is actually hundreds of thousands of small and medium-sized businesses across this province that are struggling very hard to remain viable, to keep their business' doors open and keep their staff employed. Our caucus is, in fact, the only caucus that has released a suite of standard recommendations that would have supported these businesses and those efforts. What we see from Shaping Alberta's Future today in the papers, is a campaign to attack the retirement security of 2.3 million working Albertans. That is not an economic strategy that I can support," said Notley. "We think that the better approach is to support small businesses and medium-sized businesses through the proposals we have made. In the meantime, to reject in any way possible the efforts of Shaping Alberta's Future to attack the security of 2.3 million Albertans." 
When questioned again if she was in support, Notley again doubled down on focusing on Shaping Alberta's Future.
"My understanding is that website is all about people that have donated to Shaping Alberta's Future and Shaping Alberta's Future today spent probably hundreds of thousands of dollars buying advertising to hack CPP and the retirement security of 2.3 million Albertans. I would certainly hope that any folks who did contribute to Shaping Alberta's Future would rethink that because that is a fundamentally negative attack on our economic growth, our economic future and our economic security," she said. "I don't know anything about the political affiliation pieces. What I know is Shaping Alberta's Future is spending the money of their donors to attack the Canada Pension Plan which is supported by over 70 per cent of Albertans and for good reason, because it is a fundamentally important plank for our economic recovery. As well for the economic security of the vast majority of Albertans. I think if folks are going to engage their money, to use third party organizations to attack the working rights of people, then the conversation needs to be wide open." 
Stemming from Notley's comments at the press conference, plenty of UCP members have come out in opposition to the website.
"In the middle of a huge global recession, the NDP and its allies are boycotting businesses that support free enterprise. These bully tactics have no place in our democracy," reads a Facebook post from Premier Jason Kenney.
The UCP's Parliamentary Secretary for Small Business and Tourism Martin Long called on the NDP to condemn the AFL's campaign. 
"This campaign to attack Alberta small businesses in the middle of a global pandemic is a disgusting display of political intimidation that no member of the legislature should support," said Long in a press release. "We know the NDP supports its friends in the AFL, but NDP MLAs should draw the line when it comes to attacking businesses in their own ridings. This is an opportunity for all members of the legislature to come together and say enough is enough with these kinds of political stunts."
Cardston-Siksika MLA Joesph Schow also posted on his official Facebook page condemning the AFL and the boycott website.
"At a time when we need people to support local, the AFL and its thugs are trying to destroy people's business because of who they voted for. Union dues hard at work here," reads the post.