M.D. of Taber Peace Officer Program joins North American rail-safety operation
Posted on September 23, 2020 by Taber Times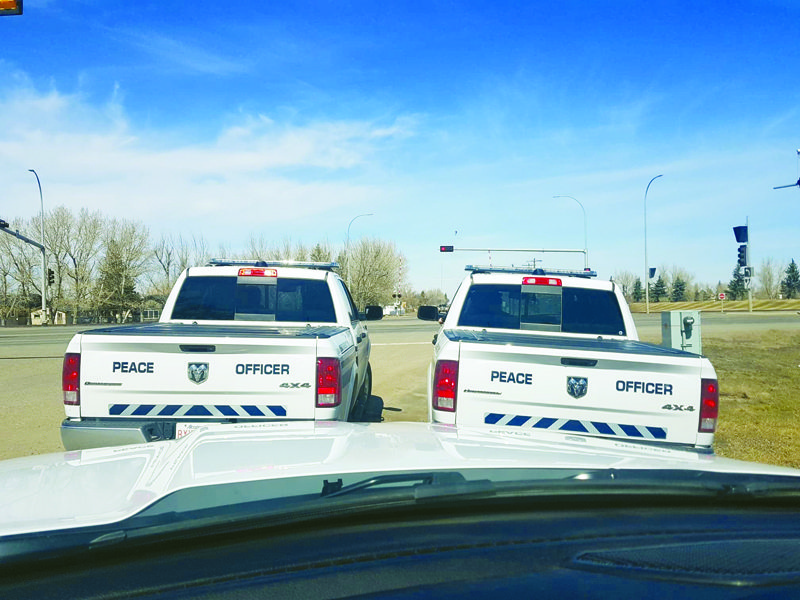 Municipal District of Taber Regional Enforcement Services are proud to be joining forces with law enforcement agencies across North America today for "Operation Clear Track" — the single largest rail-safety law-enforcement initiative in North America.
Coordinated by Amtrak, Operation Lifesaver Inc. and Operation Lifesaver Canada, Operation Clear Track aims to reduce the number of railway crossing and trespassing incidents in Canada and the U.S. — incidents which seriously injure or kill more than 2,100 people each year. The event is held annually during Rail Safety Week (September 21-27, 2020).
"The M.D. of Taber has significant amount of rail track running through the region with many uncontrolled crossings. Over the last few years, a number of incidents have occurred from motor vehicle strikes to derailments. Teaming up with CP Rail Police is part of our Strategic Plan, and aids in educating our residents on the dangers of failing to stop at train crossings," stated Sergeant Kirk Hughes, a Peace Officer with the M.D. of Taber, who also serves as the Director of Community Safety.
"A split-second decision to try to beat a train at a crossing, or to use tracks as a shortcut or a recreational path, can have tragic consequences," said Sarah Mayes, National Director of Operation Lifesaver Canada. "Operation Clear Track's goal is to encourage people to think twice before engaging in unsafe behaviours, and to learn how to keep themselves safe around tracks and trains."
Because of the ongoing pandemic, law enforcement agencies will be participating in a virtual Operation Clear Track event this year. Hundreds of police and sheriff departments across North America have signed up for the initiative, and will be promoting rail safety through social media messages, by sharing Operation Lifesaver's 2020 #STOPTrackTragedies videos, and by posting other rail-safety content to their department websites. Participating police departments will also be emphasizing the importance of obeying rail crossing and trespassing laws throughout Rail Safety Week.
For more information about Operation Clear Track, Rail Safety Week and other rail-safety initiatives and tips, please visit: operationlifesaver.ca