Theatre society eyeing Tower Plaza for new facility
Posted on September 16, 2020 by Taber Times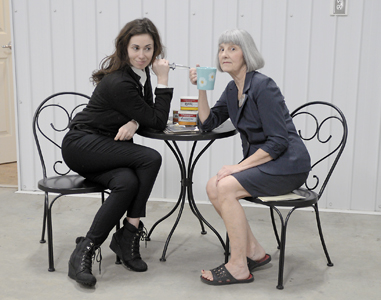 TIMES FILE PHOTO
By Trevor Busch
Taber Times
tbusch@tabertimes.com
A local arts and recreation society is pitching the concept of a new theatre to the Town of Taber to potentially be located inside the Tower Plaza building on 48th Avenue.
At town council's Aug. 17 meeting, a delegation from the Society for Taber Arts and Recreation (STAR) headed by Dr. Ryan Torrie presented a plan and concept for the building if local municipalities are interested in partnering with the group. The society has a detailed business plan with projected revenues and expenses, but is looking to secure municipal support before moving forward with further plans.
On June 16, the town's new Arts and Heritage Committee accepted the STAR delegation's report and passed a motion encouraging them to "continue to pursue this project as a newly-formed committee and eventually have them present to council."
The society's focus is primarily on establishing the STAR Theatre as a part stage, part cinema, and part community centre and events venue, and are "in the the process of acquiring a 3,000 square foot space capable of seating 188."
"I was downtown one day and had a discussion with Louis Bembi about his building, he was looking at possibly selling that building," said Torrie on Aug. 17. "We had the opportunity to walk through the building with Cory (Armfelt, CAO), Phyllis (Monks, planning director) and the fire chief (Steve Munshaw). That building is for sale, and was a theatre in the past, and is in better shape. The one in Johnson's Addition was not in great condition when we got the safety inspections."
The society's vision for the building is the creation of a creative work space and hub with a special focus on programming that supports youth and families, and will be open to all performers as well as local organizers for fundraisers, social functions and corporate events.
The group had originally been evaluating another potential candidate in Johnson's Addition on Highway 864, but this facility has since been dismissed as unfeasible.
"The MD at the time said they would be interested in supporting a theatre, and they'd be interested in working with the Town of Taber in putting together a plan for a theatre to bring arts and some other opportunities to the community," continued Torrie. "But they didn't like that building, which was understandable after we'd reviewed the report with asbestos and the different issues that it had."
Key advantages of the site include ample parking, minimal required renovations, and existing water, power and septic services, and has access to Highway 3 and main roads.
"This building downtown that we're exploring is priced somewhere between $600,000 – $700,000, it could be purchased, which is lot less than $7 million," said Torrie, referencing the estimate for a now-defunct theatre and convention centre concept that was to be attached to the Taber Community Centre Auditorium. "It's a nice structure, the fire chief did a cursory inspection and felt like it wouldn't be hard to meet an code issues. So no major expenses, and it would be repurposing a building in our community that has some historical significance. It's right along the main street there (48th Avenue) and would be easy to incorporate into Cornfest, the car show and that type of thing. It would be able to help revitalize our downtown as well."
In a 2019 business plan included as part of Torrie's presentation, the society indicated it would like to have three movie showings per week in addition to shows, symphonies, concerts and other community events, and would incorporate a concession stand.
"It would make a fantastic theatre. The ceilings are very tall, there's second storey facilities that could be used for other purposes. We've looked at the possibility of a teen drop in centre downtown where kids can get off the street and have some activities."
Town council discussed the proposal at length before unanimously passing a motion to support the building of a theatre by the STAR group, in principal.
For more information or if you have questions about the proposed project, email the STAR group at info@startheatre.ca.