Taber Public Library celebrates 75th anniversary
Posted on September 2, 2020 by Taber Times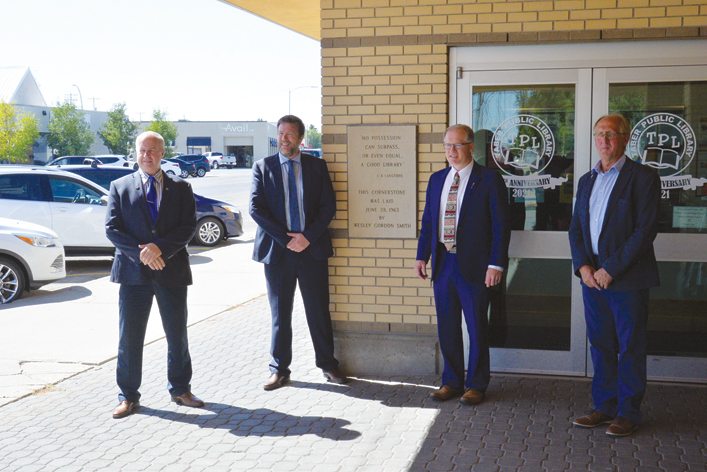 TIMES FILE PHOTO
By Cole Parkinson
Taber Times
cparkinson@tabertimes.com
Despite the challenges this year has presented, the Taber Public Library is happy to be celebrating their 75th year.
The Taber Public Library invited the community to their 75th Anniversary kick-off party last week which featured a rededication of their cornerstone as well as a performance from local band Antifragile.
"There has been a form of library services here in Taber since 1907 with the formal establishment of the Taber Public Library happening in 1946," said Shawn Bethke, library manager to the crowd. "For well over 100 years, the residents of the town and municipal district have stated that libraries matter to this community and we thank you for the importance you have placed on the library here. We have had a tough year, no doubt. COVID-19 has closed buildings and sent staff to work from home. However, services have not stopped. Libraries have risen to the challenge and have innovated delivering only programming, increasing access to e-books, audiobooks, magazines, newspapers and movies. We've never left you and we never will."
Bethke also detailed some struggles the library has faced during the COVID-19 pandemic and how that has affected the community's ability to get in and use the library's services. The good news for all is things are starting back up at the facility and will continue to do so for the next several weeks.
"Libraries are reopening, services and programs are starting again. Tuesday, September 1, we will move into Phase 2 of library reopening, allowing more browsing, more computers, more seating and soon more programming. We were asked to work through this unprecedented pandemic crisis together and I am proud to say we got through this together. We will continue our reopening and recovery together as a community, as a library always should be," explained Bethke.
Another big highlight for the library in 2020 was the instalment of their original cornerstone, which was laid by master bricklayer Robert Moore on June 26, 2020.
On June 11, 2020, the cornerstone was found in the old library (Kid Zone) basement which led to the return of the cornerstone to the new location.
"This cornerstone represents the ideals and hardwork of the many people who worked to establish the library in 1963. Today this library is proud to rededicate the cornerstone and make it a permanent marker to Taber's commitment to your library," continued Bethke.
Also in attendance to celebrate the big anniversary was Town of Taber Mayor Andrew Prokop, Taber-Warner MLA Grant Hunter and M.D. of Taber Reeve Merrill Harris.
"The Town of Taber has a great history and was actually established back in 1904. The first library at that stage was established in 1907 and was located just east of the current cenotaph, that was a two-story building," said Prokop. "It also included the police service, fire hall and town hall with the library being held in the upstairs portion of the building. In 1946, the library was founded as a public library for Taber and area. They finally moved into a building in 1963 which was also at the old police station building which is currently the Kid Zone location. From there, the current library location was moved to this location we're standing at today back in October 2007. The Taber Public Library serves nearly 20,000 people in Taber and area."
Acknowledging the tough year it has been for a large number of facilities in southern Alberta, Hunter gave a special shout out to Taber Public Library staff for all the work they have done to keep their services available during the pandemic.
"I want to commend the staff for their courage and fast action to adapt during this ongoing COVID-19 pandemic. I'm sure closing your doors for a time was heartbreaking, I know it was for myself and my family," stated Hunter. "You can not get a better value for your money than what you get right here in these libraries."
Likewise, Harris touched on the importance libraries play in rural southern Alberta.
"Libraries are an important part of every community. In the municipality of Taber, we have a library in every community such as Hays, Enchant, Grassy Lake, Vauxhall, Barnwell and of course, this beautiful facility here in the town of Taber," he said.
Phase 2 for the Taber Public Library officially started yesterday with the start of evening hours, weekend hours, expanded browsing, seating/reading areas and access to more computers available.