Twinning highway won't undo pain
Posted on July 22, 2020 by Taber Times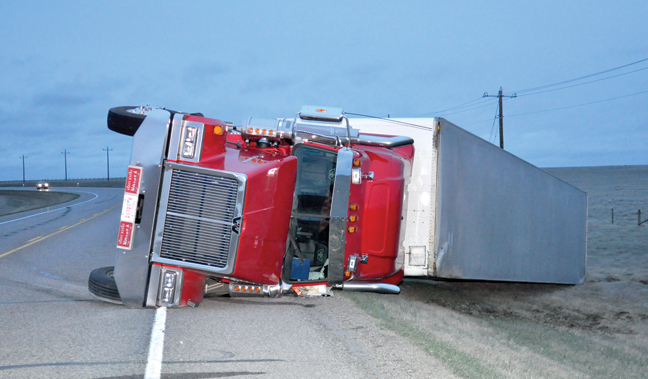 TIMES FILE PHOTO
By Collin Gallant
Alta Newspaper Group – Medicine Hat
Pain remains for those who've lost loved ones on Highway 3, even after an announcement that a major section of the southern Alberta route will be twinned.
Earlier this month the province announced it will spend $150 million to add lanes and other improvements from Burdett to Taber to support burgeoning food production clusters and ease logistics on the busy route. But advocates have also stressed that a wider, divided highway is needed to improve safety from Medicine Hat to British Columbia.
Kim Gerbrandt lost her husband Chris, an off-duty Alberta Sheriff in late 2015, when their vehicle was struck head-on as they returned from Taber to Medicine Hat with their two children.
"It's no consolation to me … but hopefully it's done as soon as possible – like 10 years ago," Gerbrandt said. "It's ridiculous that what's being done should have been done years ago. It's a major highway, and for a government to not have it twinned?"
The young woman driving the other car, which RCMP believe drifted over the centre-line of the undivided highway, was also killed. Gerbrandt and one of the couple's two son's suffered serious injuries, which she says have had lasting effects.
"It's changed our family forever," she said. "It's indescribable how it's changed our lives."
Hatter Ruth Mosher travelled the road often over the years, and felt unsafe alongside a growing number of tractor-trailers.
She became an active advocate for twinning last fall after her neighbour, Nick Lewicki, was killed in a collision between his motorcycle and a semi-truck near Bow Island.
"It's a good start, but I wish (twinning) would have started at Medicine Hat … still, kudos to Kenney," said Mosher on July 3, the day after Premier Jason Kenney announced the project.
Mosher said boosting economic activity is important, but the result will be peace of mind for motorists.
"It's a bad, bad road and if there's bad weather anywhere it's likely to be on that highway," she said. "I've been caught in snow squalls and rain and hail and rip-snorting thunderstorms on that stretch. Having it twinned would have made it so much easier."
Lewicki's wasn't the only fatal accident on the highway in 2019, as 18-year-old college student Kayley Hayashi was killed in a head-on collision that summer.
Calls to twin the highway for purely safety reasons have been constant over several decades as the case for improving passing lanes, turnoffs and twinning has been studied. Taber-Warner MLA Grant Hunter, whose riding includes the County of Forty Mile, said the economic benefits are obvious, but safety also played an important part in the decision.
"It's the major east-west connector in the region," Hunter said during a press conference in Taber to announce the spending. "It will not only bring jobs but will open new opportunities for the agri-food sector and improve safety and efficiency. To all the families who have lost loved ones due to accidents on this busy stretch of highway, we build this highway in your honour."
Last fall, Stantec Engineering completed a functional report on how to twin the section east of Taber, after several years of open houses.
The Highway 3 Twinning Association, comprised of municipalities along the route, has worked for several decades on the issue.
In 2016, the Palliser Economic Partnership launched its own economic study to make a case for construction, finding that cost-benefit analysis over time could be made, but up-front costs of $6 million per kilometre on average along the entire route would be needed.
Cypress-Medicine Hat MLA Drew Barnes told the Alta Newspaper Group work in prairie landscape was much less than in more mountainous regions.