New artist on display at Barnwell library
Posted on July 22, 2020 by Taber Times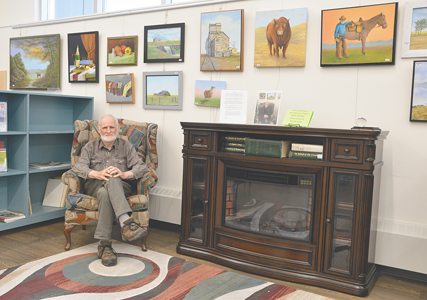 IN THE PICTURE: Local Barnwell painter Alexander "Sandy" Watts' work is currently on display at the Barnwell Public Library. TIMES PHOTO BY TREVOR BUSCH
By Trevor Busch
Taber Times
tbusch@tabertimes.com
As part of a series of local artists featured at the Barnwell Public Library, the work of Alexander "Sandy" Watts has been on display in 2020.
However, with the implications of the COVID-19 pandemic restricting access to public facilities early in the year, only a handful of local residents were able to view Watts' work before the building was locked down. Now, with restrictions lifted, his artwork display is open to the public once again.
"It's been in quarantine for all this time," said Watts, a painter. "Mostly I'm doing landscapes, in acrylics. I did do oils at one time — I still have some oils kicking around somewhere, but the idea of having to clean everything up with various solvents (ended that)."
Watts has been a resident of Barnwell for the past nine years after moving to the community from British Columbia. But it was in that province that his journey through the world of art began.
"Since I was a little weeny guy, I was always drawing all the time," said Watts. "But in terms of painting, when I got out of high school I went to the Vancouver School of Art. That was four years, from 1962 to 1967. I got a diploma, in those days in Graphics. Out of that school, it meant fine art — silkscreen, block printing, lithographs, etching — using the old methods."
To make ends meet and pay for his education, Watts worked as a surveyor, initially in the Yukon Territory.
"I worked my way through art school, primarily on survey crews. In the Yukon I was on road location surveys, and worked on the Robert Campbell Highway, which was my first survey. That was all tent camp stuff, three months in the woods with nobody around, and after the first week all the diseases are gone — but somebody comes by in a canoe and comes in to see how the moose hunting is, and all the sudden we've all got bugs in us again."
Through trial and error, Watts realized early on that his professional career as an artist was destined to be short lived.
"It was intended to be, but it didn't work out that way. I thought I was going to be a commercial artist, but after my first little session doing real commercial art, I realized this wasn't really going to work for me. You know, going into an office and they say, 'do 20 drawings of a can of beans.' Having paid my way through surveying, I found that was not a bad life, and went on to get a commission as a British Columbia land surveyor, and later as a CLS, a Canada land surveyor."
As a surveyor, Watts was able to take in many of the awesome sights that make Canada a destination for artists.
"In that process, I saw pretty much all four corners of Canada. Positioning oil wells off the east coast in 60-foot seas, Axel Heiberg Island, Bellot Strait on an icebreaker, west coast the Queen Charlottes (Islands) — surveys all over the place. A lot of work in the Yukon, because that's where I started. I did work out of the Edmonton office for one of the companies here for a while."
Watts has spent time in some of the remotest locations in the country, such as Axel Heiberg Island in Canada's high Arctic.
"I was on Axel Heiberg, positioning an oil well there. We had to traverse with the old electronic equipment — I think it was about 150 miles — in order to locate the place, because we went from the coast where there was a hydrographic monument out to where the site was supposed to be, and then back to another hydrographic monument 15 miles further north. We spent two weeks waiting for the weather so we could get in."
While at work in various parts of the country, his true passion never atrophied.
"But in the meantime, I always had sketch books with me, and I filled them full of sketches of various things. Often in bars — I could nurse a pint of beer for three hours."
Among his works on display is a painting of the former Parrish and Heimbecker elevator in the hamlet of Skiff south of Grassy Lake.
"That one was one of a dozen or so that I went on a drive and just did elevators, took pictures of them. Of course, some of them are gone now."
While now mostly a hobby in his retirement, the paintings that are on display in the library are all available for purchase.
"I left a few at home, and some I'm still working on. Some of the these go back 20 years or so," said Watts.
While his theory of retirement should have afforded him more time to pursue his art, Watts admits this hypothesis hasn't always been entirely accurate.
"As much as I want, but everything else gets in the way. The dog insists on his walk, the sidewalks have to be cleaned of snow, the lawn has to be mowed…I just went and bought a whole bunch of canvas because I'm hoping to get some more stretched up, and really get at it."