Taber gets $1.4 million for raw water project
Posted on July 15, 2020 by Taber Times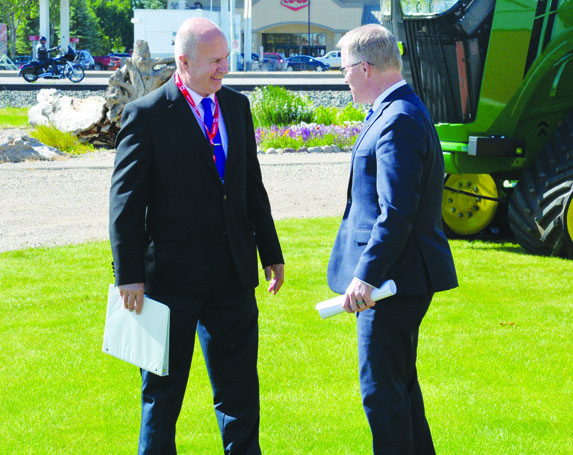 By Cole Parkinson
Taber Times
cparkinson@tabertimes.com
The good news for the Taber area continued last week when Taber-Warner MLA Grant Hunter alongside Taber Mayor Andrew Prokop announced funding for a raw water project for the town.
Last Friday, a press conference was held in Taber to announce a $1,424,000 raw water pump station located at Chin Reservoir.
"Premier Jason Kenney has been outspoken about the need for Alberta to be bold, take action and make strategic investments so that our province emerges from this crisis stronger than ever. It is why one of our first actions was to double capital and maintenance programs and spending for 2020," explained MLA Grant Hunter, who is also associate minister of Red Tape Reduction. "Now our government is taking the next step for Alberta's economic recovery by working with communities throughout the province to tackle their much need road, bridge construction and water infrastructure projects. Our government recently announced that we are investing $150 million in water infrastructure grants that will support 55 water and wastewater improvement projects and approximately 1,300 jobs across the province."
"Another $137 million was allocated to the Alberta municipal and wastewater partnership for 55 projects as well as $13 million for a First Nations water tie in program. In Taber, the government has granted $1.4 million for a raw water pump station creating approximately 14 new jobs for the community," added Hunter.
Along with the announcement of $150 in funding for further twinning of Highway 3 east of Taber to Burdett earlier this month, more provincial funding is a great step for economic recovery as the world continues to deal with the COVID-19 pandemic.
"This is great news for my constituency. This project will not only be of benefit the residents and businesses
of the town of Taber but also create jobs. Combined with the exciting news of the twinning of Highway 3 announced last week, Taber-Warner has received strong support from our government as we recover economically," continued Hunter.
From the town's perspective, the project is something that has been on the books for quite some time and was highlighted during the big floods that affected the region in 2018.
"I believe it has been in the last two years that it came up as a possibility. That was due to the fact that we had an issue in 2018 where we had the floods and there were some serious upgrades that needed to be done at that time. I don't have the exact figure at this moment but I believe that spearheaded the need for this project,"
stated Prokop.
With money coming into Taber to finally get the project off the ground, Prokop was thankful the Alberta government was able to lend a helping hand.
"We are absolutely thrilled to receive this funding for a much-needed upgrade of our raw water system. This will most certainly benefit the town of Taber and area residents for many years to come. Special thanks to our local Minister and MLA Grant Hunter as well as Infrastructure Minister Prasad Panda for their continued support and attention to the needs in our area. This particular infrastructure piece will last for at last 25 years and beyond."