Town of Taber seeking public input on new architectural guide
Posted on June 24, 2020 by Taber Times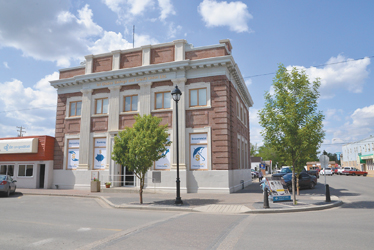 TIMES FILE PHOTO
By Trevor Busch
Taber Times
tbusch@tabertimes.com
As part of a push to encourage future development in Taber's business core, the Town of Taber has completed a new Downtown Architectural Guide.
The Town of Taber's Strategic Plan identifies the development of an architectural guide as a strategic initiative to be completed by the town. Administration completed the draft Downtown Architectural Guide and brought it to council for approval and comment at their June 8 meeting prior to commencing public consultation. Once public consultation is complete, a final document will be brought back to council for review.
The purpose of the Downtown Architectural Guide is to encourage future development and redevelopment to complement and enhance Taber's existing unique, small-town character. The guide has been developed to apply to Taber's downtown district in order to enrich the experience for residents, visitors, and others who may not otherwise come to the downtown core. Improving the downtown user's experience may lead to more pedestrian traffic, and subsequently improve the viability for a wide number of businesses.
The guide is to be utilized as a supplement to the Town of Taber's Municipal Development Plan and Land Use Bylaw. It is intended as a tool for reviewing proposals in the outlined area, and could be used by developers, landowners, businesses, and consultants during the development of proposals. The guide is also intended to be used to inform community design and streetscape plans.
Some of the key goals of the guide include maintaining and enhancing the small-town character; retaining and adapting historic buildings, facades, and resources while sensitively integrating new development that conforms to historical context; promoting pedestrian safety, active transportation, and universal accessibility; and creating a comfortable and attractive environment for pedestrians through appropriately scaled buildings, enhanced facades and interesting building details at street level.
Many recommendations are included within the guide as to how Taber's downtown could potentially be improved, including facade rehabilitation.
"Building facades in downtown Taber currently consist of brick, stucco, aluminium siding, and some historical mason work," reads a statement in the draft guide. "Many of the historical buildings have either been torn down, or had their facades covered by aluminium and other forms of siding. In order to restore the small-town historical character of Taber's downtown, the remaining historic facades should be uncovered and rehabilitated where possible. Historical facades in Taber are largely characterized by storefronts that are rich in detail, and have recessed entryways, large main floor windows, and cornices between storeys and at the top edge of the building."
Parking areas should be adequate, but also aesthetically pleasing for citizens and users.
"It is important to ensure that there is sufficient parking in the downtown area to accommodate the peak hour traffic, and larger parking areas are important to help meet these demands," states the guide. "However, these parking areas can detract from the overall aesthetics of the downtown. By incorporating a small amount of landscaping and amenities the aesthetics of large parking areas can be greatly improved."
Accessibility should be made a priority for right-of-way design.
"To attract and maintain pedestrian activity in Taber's downtown it is essential that the area is a comfortable space for active transportation such as walking and cycling. Right-of-way design promotes active transportation and universal accessibility that better connects people and businesses."
Street furniture includes amenities such as public seating, bike racks, planters, waste receptacles, art, and signage, and the town would like to see more opportunities in this area in future.
"When street furniture is properly incorporated into the downtown fabric it improves beauty, functionality, safety, and comfort."
Further recommendations to council included consideration of a town theme and colour, the addition of way-finding signage, creating an inventory of underutilized downtown spaces and historical buildings, and complete a parking assessment.
Following discussion, council voted unanimously to accept the Downtown Architectural Guide draft as information for consideration, and directed administration to proceed with public consultation prior to bringing the document back to council for further review.