Modified Canada Day on tap for Town of Taber
Posted on June 24, 2020 by Taber Times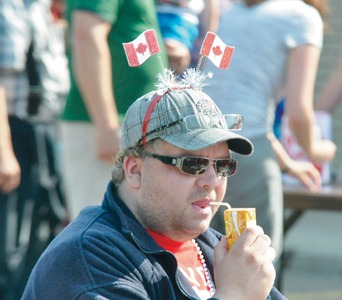 TIMES FILE PHOTO
By Trevor Busch
Taber Times
tbusch@tabertimes.com
With Alberta's pandemic restrictions loosening, the Town of Taber is planning a modified celebration for the nation's birthday on July 1 with an extensive pyrotechnics display.
Still discouraging any public gatherings of more than 100 people, the municipality has altered its July 1 fireworks to help facilitate an emphasis on social distancing.
"What we decided to do was go ahead with fireworks, but we're going to have bigger ones than previous years — sort of like on day two of Cornfest, they do the higher ones — so bigger than previous years, so they can be seen from most homes in town," said recreation director Dawn Phillips. "So if people want to come out, or a little closer, that's fine, but don't forget — I have to be very clear — they're at the golf course this year. So nobody will be allowed on the golf course to watch them, but you can — if you can't see them from your home — you could come a little closer. We just want to make sure that people are remembering that social distancing is vital, of course."
Town administration weighed the potential pros and cons of hosting a fireworks display amidst a pandemic, including the possibility of the public ignoring public gathering restrictions, but ultimately decided to push forward.
"Now that they've loosened up, of course, the regulations only allow us to have events with up to 100 people, so not realistic to expect that we could host our regular Canada Day and have less that 100 people," said Phillips. "But we did think that — although we can't have our regular event — maybe we should do fireworks. We were hesitant, because we didn't want to encourage people to gather, because even though you say 'stay in your vehicles', that may not happen."
The fireworks will commence at dusk, around 10:30 p.m.
Traditional pancake breakfasts are off the table for 2020, but the town is encouraging citizens to get their flapjack fix at local restaurants on July 1 from 6 – 10 a.m. with specials being offered at A&W, the Heritage Inn, Smitty's, and McDonald's.
"Initially, there were no events at all, of course," said Phillips. "So we planned some virtual events, which is where the flag raising on Facebook Live came in, and the pancake breakfasts at local restaurants because they were allowed to open, but we can't host the typical breakfast here. The scavenger hunt, and the yard decorating, a lot of that came because we couldn't have any events at that point."
From 10-11 a.m. there will be a flag raising ceremony at the Administration Building which will be carried live on Facebook.
"We have some representatives from the fire department, the honour guard, and the Legion, as well as the United Nations peacekeepers. Everyone will be social distancing, the mayor (Andrew Prokop) will be there, and we'll do the traditional flag raising we've done in the past, and the shooting of the cannons, and we will broadcast it all on Facebook Live. Again, we can't have more that 100 people here. There may be some people that this is even more meaningful that may want to attend, we would just ask that they watch from a distance. That's why we have it on Facebook Live as well," said Phillips.
Starting at 1 p.m. on July 1, town judges will be assessing yards in Taber for the Front Yard Contest. Residents are being asked to decorate their yards in "Canadian style" and register them with the town (call 403-223-6013) prior to June 30 at 4 p.m. Prizes will be awarded immediately following the judging.
"We're asking people to register with us to let us know they've decorated their yard, so we don't have to drive every street in town to find them," said Phillips.
"So if they've registered, we'll have a team of us going around on Canada Day and we'll judge all the decorated yards. I think we're going to have a couple of winners with a barbecue picnic package, encouraging people to have a family barbecue since we can't have the big festival down here at Confederation Park," continued Phillips.
Phillips is happy the municipality was able to roll out a modified celebration for Canada Day.
"It's a nice thing to do for the community. Everyone's been very patient with all the cancellations of all the different events in town, so what a great opportunity to celebrate and be able to watch fireworks at least. It'll be great."