Cadet graduates celebrate; two new officers join TPS
Posted on June 17, 2020 by Taber Times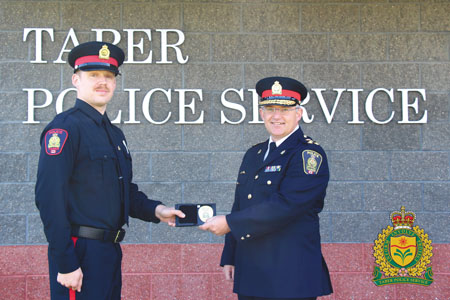 FUZZ FACTOR: TPS chief Graham Abela congratulates new recruit Cst. Michael Kitto. TIMES PHOTO SUBMITTED
By Greg Bobinec
Alta Newspaper Group – Lethbridge
To celebrate their hard work during school, graduation ceremonies of the 2020 Medicine Hat Police Service (MHPS), Blood Tribe Police Service (BTPS) and the Taber Police Service (TPS) Cadet training program took place in late May.
Due to the COVID-19 health restrictions, the ceremony was closed to members of the public.
Twelve cadets graduated from the 20-week training program, including one TSP, four BTPS and seven MHPS cadets, who met or exceeded the provincial standards in the areas of police recruit training.
The cadets also received academic accreditation through Lethbridge College for the knowledge and skills they acquired through this competency-based educational program.
"The strength of the partnership between the college and the Medicine Hat, Blood Tribe and Taber Police Services allowed us to be adaptable and flexible, despite the unique challenges COVID-19 presented," said Jeanie Webber, Dean of Lethbridge College's Centre for Justice and Human Services. "We were able to facilitate an exceptional blended educational and training experience for the cadets. We are honoured to assist our police partners with preparing cadets for their policing careers and congratulate the cadets on their graduation."
The training program is the result of a collaborative partnership between the MHPS, BTPS, TPS, Lethbridge Police Services and Lethbridge College. While a traditional classroom environment played an important role, much of the learning and assessment took place in real-life settings throughout the community. In response to the COVID-19 pandemic, adjustments to program delivery allowed learning to continue seamlessly in a virtual environment to ensure the safety of the cadets and instructors.
"We are fortunate to have this partnership where an innovative police recruit curriculum and first class instruction has been developed within this police academy model," said Graham Abela, TPS Chief. "Together we can achieve greatness in public safety, and this is simply another excellent example of how we do things right in southern Alberta. I would like to thank the MHPS for its leadership and support to our organization in this regard, and Lethbridge College for its commitment to police training and the development of our new officers."
The cadets will be returning to their communities to join their respective agencies and begin their policing careers to serve their communities.
Two graduates join Taber Police Service
The Taber Police Service is welcoming the two newest members to their team, Constable Todd Boychuk and Constable Michael Kitto, who were sworn into office on June 2.
Cst. Boychuk completed his Criminal Justice Diploma at Lethbridge College and worked in the security field for the last year and a half.
He recently completed his 21-week police academy training through Lethbridge College and will be joining our ranks as a police officer in the Community Standards Unit.
Cst. Kitto completed his Police Foundations Diploma from Algonquin College in Ottawa and worked for four years as a Correctional Officer in Calgary where he also joined the military reserves.