TDHF wheels into Seniors Week with meal campaign
Posted on June 3, 2020 by Taber Times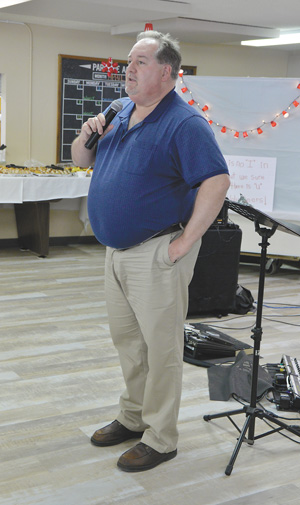 TIMES FILE PHOTO
By Trevor Busch
Taber Times
tbusch@tabertimes.com
As part of its celebration of Seniors Week in Alberta, the Taber and District Housing Foundation (TDHF) is ramping up a fundraising campaign for its Meals on Wheels program in an effort to reduce the cost for clients.
The Meals on Wheels program currently serves between 25 – 35 clients on a daily basis.
"Meals on Wheels has become sort of an extension of our philosophy of how do we help people address needs that they might have without them having to engage in riskier behaviour," said TDHF CAO Tim Janzen. "So if food security is one of them, we can provide meals delivered to them with bio-security protocols thought through so that they don't have to go to the grocery store or pick up things at the restaurant. We deliver you a lunch meal, and that meal is cooked at Clearview Lodge kitchen. So you get the same food that Clearview Lodge residents get every lunch hour. And that's our large meal of the day, so soup, salad, entree and dessert."
Meals are delivered between 11:30 a.m. – 1:00 p.m., Monday – Friday (except statutory holidays). Clearview Lodge kitchen staff prepares a hot, nutritious meal to be delivered to the individual's home. Janzen was careful to stress that it isn't a program that is exclusive to seniors, but also those with disabilities or other special circumstances, such as recovering from surgery.
"It's not just for seniors. It's for people that may have a food security issue, or have some issues that may cause them to be unable to look after themselves, and feed themselves. Anybody that wants more information is free to contact us, and we'd love their support. We know that Taber is a very generous community, but there are lots of causes to support. We think that there are people out there where cost has been an issue, so this is how we're trying to make sure that everybody can access this program. I'd love to fundraise enough money that we could offer it for free."
Donations for the program have already been rolling in from the local business community, and these funds have enabled TDHF to drop the cost of a meal for clients from $9 to $7 which will extend into the new year.
"We kind of started this in March, I was looking around at different programs for funding," said Janzen. "We had originally just wanted to have a fundraising walk that was going to happen for Seniors Week. Instead we started fundraising, and we've had a really good response from some corporate sponsors, and a lot of it unsolicited. They've just called us up — either they've heard through the grapevine we're doing something, or they know that we run Meals on Wheels, and so they've approach us with donations. So we've decided we're going to reduce the meal rate for existing and new clients to $7 per meal."
Janzen reports TDHF is already well on their way to reaching their initial fundraising target, but if that target is exceeded, the funds will be put to good use.
"We had kind of set our target at $10,000, but there was some grant application opportunities that showed up. Lantic (Sugar) stepped up this week (May 24-30) and delivered a cheque for $5,000. Fortis has made a commitment to us for $1,000, and UFA has approached us but we don't know for sure. So we know we've raised $6,000 already, and we haven't really launched. So I've looked at and said whatever we've raised, we're going to spend on our clients. We've already made the commitment — with $10,000 raised we could reduce the price of meals to the end of March 2021."
TDHF took a novel approach to its Meals on Wheels program with the realization that a global pandemic creates enhanced food security issues.
"Normally during an outbreak you would shut down because it's considered a bio-security issue," said Janzen. "But a number of our clients didn't have food in the house, or may not have an understanding to really cook. So to shut off the program would have essentially created a food availability issue. So rather, we've gone the other way and decided we'd like to try to ramp up the program."
Janzen highlighted the importance of the program during COVID-19 and the vital need to deliver good nutrition to socially-isolated individuals.
"What we see when we get people applying, for the lodge mostly, but even in the manors, these people often are lonely, and they're not eating very well. Meals on Wheels tries to address both of those in different ways. During COVID, it's hard to address isolation, but at least if they have someone coming to them every day, or whatever interval they're asking for, bringing them a meal shows that people care about them, and it addresses nutrition in that they're eating the same menu, reviewed and approved by a dietician. We notice it at the lodge — it's not unusual for a person to put on weight in the first month that they arrive, because they're eating three squares a day. With Meals on Wheels, they're getting that big meal, that one meal of the day, the lunch hour meal. I think it is important that we make sure that people don't fall through the gaps."
Bio-security of the food being delivered has been a critical goal, and Janzen detailed some of the precautions staff have been taking.
"We have insulated bags that we put outside of our building now for bio-security for the volunteers to pick up. The volunteers return the insulated bags, and we do a disinfection protocol to get them ready for the next day. We also have people that are in our manors that are adjacent to Clearview Lodge. Currently we have our staff doing that work, simply for the protection of the manor residents, and so we don't have to ask volunteers to go into a higher-density building."
Volunteers from churches, local businesses, groups, and service clubs provide the delivery, but early on during the pandemic volunteers quickly became an issue for Meals on Wheels.
"Generally they're done by groups, but I know during the first days of COVID we had an issue — fortunately or unfortunately — the volunteers that deliver the meals often are the same age as the people receiving the meals," said Janzen. "So when COVID broke, and with some of the health recommendations, we did have some groups say 'we're also at-risk people.' So we put out a petition, a request online on our website and social media, chamber of commerce, and the Town of Taber picked it up and spread it, and we had five times as many volunteers than we probably needed to fill that specific gap. What we've done is we've added them to our pool of volunteers, because at the time, COVID was not going to be just a one month thing. And we still don't know exactly how it affects these people at risk, and what relaunches and stuff like that mean for them. It likely means they're still at risk, so while the world opens up, we know — at least our buildings that we're responsible for — are still clamped down, we're still trying to be very careful. Because once it gets into the building, it has bad effects."
Businesses or individuals interested in making a contribution to the campaign can visit the TDHF website (taberhsg.ca) or social media pages for more information, or make an online donation through canadahelps.org.
"People will be able to make online contributions, but also they can reach out to my contact information, call me or email me," said Janzen. "We can figure out ways to accept if they physically wanted to drop off a cheque at our office. It's not currently open, but we do have a mail drop box. If people want to make a contribution, we can figure out how to connect to receive those funds. We are a registered charity, so everybody will be receipted for donations that they make."
Janzen can be contacted directly at 403-223-2767 (Ext. 7) or 403-382-7098, or via email at timj@taberhsg.ca. The Taber and District Housing Foundation main office is located at 5318 – 48th Avenue.