Cornfest cancelled as province details relaunch strategy
Posted on May 6, 2020 by Taber Times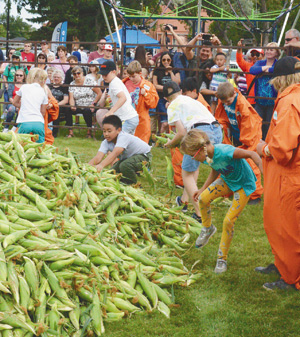 TIMES FILE PHOTO
By Trevor Busch
Taber Times
tbusch@tabertimes.com
The global COVID-19 pandemic has claimed another local casualty with the cancellation of Western Canada's largest free family festival, Taber Cornfest.
The decision from the Taber and District Chamber of Commerce, which organizes the event, came on the heels of the province's chief medical officer of health laying down strict guidelines in late April limiting public gatherings to 15 people for an indefinite time period, and banning major summer events and festivals in Alberta.
"It's a disappointment, there's no doubt about that. But what can you do?" said Mayor Andrew Prokop in an interview with the Times shortly after the decision. "We were hoping it wasn't going to get to that stage, but when you have the chief medical officer advising that there's no large gatherings allowed in the province through to September as a public health order, that pretty much says it all — there is no discussion and negotiation in that capacity."
With the provincial domino effect of cancellations kicking into high gear after the province announced its guidelines, Prokop highlighted other major events such as the Calgary Stampede would not be going forward in 2020.
"It's definitely disappointing. I try to remain optimistic that maybe there's something that could happen in some capacity prior to that, but for now that's the way it sits. We can't make any promises, but we can certainly hope for better opportunities, and hopefully have some form of gathering opportunities going forward before the summer is out. But that all remains to be seen as to how well things are going with the continuation of the 'flattening the curve' requirement that we're now doing. It's improving, and that's why they're looking to lift some of these restrictions in the next couple weeks."
Cornfest is always hosted on the last full weekend in August before the long weekend in September (Aug. 27-30, 2020) but this year there will be no hive of activity on the grounds of Confederation Park.
More than that, however, is the positive economic impact the festival brings to the community and area, and that loss will be felt among business operators.
"Absolutely, it's impactful for everybody," said Prokop. "It involves every one of us and impacts all of us — some more than others — but it's difficult. We just have to weather the storm, so to speak, just carry on and persevere. Certainly nobody asked for this, and nobody wanted it. But we're all dealing with this, and I think we're dealing with it very effectively overall as a community, and area, province, and country."
The Taber chamber will remain focused on supporting community-minded events such as the Taber Pheasant Festival held in the fall, the new Winter Festival started in 2019, and Cornfest 2021.
"I can't thank our Taber and area residents enough for their complete cooperation, understanding and compliance with what's necessary out there," said Prokop. "Back to the same story — as has been said before, and by AHS — we are all in this together, and we will get through this together. And there are better days ahead, I'm sure, it's just a matter of time, going through this, doing what we need to do, doing our part as best we can. But I certainly appreciate all the efforts made by all of our Taber and area residents — which isn't easy for any of us — but I think people have learned to adapt as best they can under these kinds of circumstances, and making the best out of it."
Alberta's relaunch strategy announced last week released details regarding the re-opening of some medical services, parks, golf courses and businesses during the pandemic.
"It's difficult, there's no doubt about it. No matter who you talk to, people are certainly getting tired of it," said Prokop."Finally — I think that's what we needed to hear from our premier, Jason Kenney — to say that there are some positives going forward in the very near future, and likely as soon as the middle of May. Even more so when you're talking about the campgrounds that can now open privately, and provincially I believe. The parks may be open, the majority. That's reassuring, and another positive."