Premier Kenney highlights Alberta economy recovery process after COVID-19 pandemic passes
Posted on April 29, 2020 by Taber Times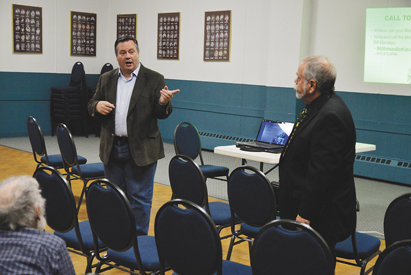 EARLY DAYS: Premier Jason Kenney — at the time seeking the leadership of the PCs — makes a stump speech at a open house with MP Shields in Taber in 2017. TIMES FILE PHOTO
By Nikki Jamieson
Alta Newspaper Group – Coaldale
Once the pandemic has passed, it will still take a while for Alberta's economy to recover.
In a press conference for members of the Alberta Weekly Newspapers Association earlier this month, Premier Jason Kenney said Alberta's economy was being hit with the triple whammy of the Coronavirus, the recent collapse in oil prices and recession recovery.
The province is pledging $12 billion for a variety of economic responses to the pandemic, which includes an additional half-a-billion dollars for Alberta Health Services for pandemic response; billions worth of deferrals for things such as non-residential property taxes, business taxes, student loan payments, utility bills and emergency isolation payments; $50 million for charities such as homeless shelters, food banks and women's shelters; billions worth of liquidity through the treasury branches for mortgage deferrals and access to loans; and a $1 billion increase for the province's budget for capital and maintenance projects.
More fiscal measures will be announced later this summer.
Kenney said they "appreciate" the federal government providing subsidies for small businesses and expanding employment insurance as part of their actions to address COVID-19's economic impacts, but they "plead" for measures to help Alberta's oil and gas industry. They are also "expecting a partnership" with the federal government in regards to funding for oil field well reclamation and completion, to help get oil field workers back to work, remediate the wells and take care of environmental liabilities.
When asked if the province could track unemployment rates for the oil and gas industry versus layoffs from COVID-19, Kenney said they can track layoffs in different sectors.
"For example, Stats Can does report on a broad category called 'Forestry, Fishing, Mining, Quarrying, Oil and Gas'. In Alberta, obviously, the overwhelming majority of that segment is oil and gas, and they actually report an increase of 87,000 jobs, believe it or not, in oil and gas in March, in the (March Labour Force survey) report that came out," said Kenney. "I think that reflects the fact that in early March, we were continuing to see growth and confidence and investment in oil and gas before things started to crash. So I think you'll see those numbers go in complete reverse. So that's the best way you can desegregate oil and gas from the pandemic impact on the economy."
While the rest of the world would likely experience a strong recovery post-pandemic in terms of employment, Kenney said "we will not experience that in Alberta" due to the oil price collapse.
"I expect our downturn to be deeper and longer than the rest of the world."
Alberta's Energy Minister, Sonya Savage, has been in talks with OPEC+ energy ministers, which Kenney said was "the first time in history" that Alberta has been invited to participate in OPEC discussion around global energy production, and Savage has been asking them to "stop the craziness of surging oil supply into a total collapse in demand".
"We think the Saudis and the Russians are trying to permanently damage North America energy production in U.S. shale and the Canadian oilsands."
Before the AWNA press conference, Kenney said he had spent three hours talking to U.S. senators and congressmen about the "crisis in the North American energy industry".
He has also spoken to U.S. Secretary of Energy Dan Brouillette and other U.S. energy leaders about the need for a coordinated North American policy to defend their energy sector from the "predatory dumping of oil onto global markets by OPEC and Russia".
While the Albertan government has taken several steps to help the oil and gas sector and other businesses in Alberta — such as deferring corporate income taxes and WCB premiums, paying the Alberta Energy Regulator fees normally paid by oil and gas companies this year — to help with the "cash crisis" they are currently facing. The province is also working with the federal government on an emergency liquidity package, a credit backstop, to help ensure access to credit.
Despite these measures, Kenney says they still expect to see much worse numbers in the oil and gas sector for months to come.
When asked how the pandemic would affect the ag sector, another major industry in Alberta, and how the province would support that sector, Kenney noted agriculture is broadly considered to be an essential service, and they have excluded agri-food and the agriculture industry from public health orders that have led to the suspension of a lot of other businesses.
"We need to continue to feed people, and food security is an essential part of this," said Kenney. "The importance of our farmers and food producers is now, I think, more obvious to many urban Albertans than it has been for a long time. And so we very much want to ensure, not just to allow farms and ag-operations, ag-food operations to continue to function, but to work with them to ensure their safe function."
Kenney said agriculture was a key part of the province's economic recovery strategy, which will involve further effort in diversification. Devin Dreeshen, minister of ag and forestry for Alberta, has been working on a number of initiatives such as expanding irrigation and value-added agriculture, and Kenney has been speaking with Chief Roy Fox of the Kainai Nation, who is working on a partnership to develop a poppy crop to provide opioids for Canada's pharmaceutical industry.
"One of the impacts of the Coronavirus is going to be that we want to ensure pharmaceutical security within Canada, that we no longer want to rely on the Chinese to ship us pharma, and that means we our own, to produce our own constituent elements, including opioids."
Kenney also noted a number of ag businesses have also asked for the federal government to facilitate access to temporary foreign workers, who have "become a mainstay of the labour force for many ag-related businesses", but he thinks they should look more locally for workers in light of the recent layoffs.
"The message I'm sending to our ag-producers is folks, we are facing a huge weight of unemployment, you should be drilling down to the hundreds of thousands of unemployed teenagers from high school who are out of school, to college kids who are no longer (in school), to other people who have lost their jobs, including people with a lot of skill levels, to get them engaged in these agriculture jobs," said Kenney.
"In the United Kingdom, because of the Coronavirus, they could no longer bring in tens of thousands of guest workers from places like Romania and Bulgaria, and so the government called for what they call a Land Army, and tens of thousands of Brits are now for the first time in generations back on the farm helping the farmers to operate. So I think this is an opportunity for us to reimagine the labour market for many of our ag businesses."