Fire inspections bring further awareness for businesses
Posted on April 22, 2020 by Taber Times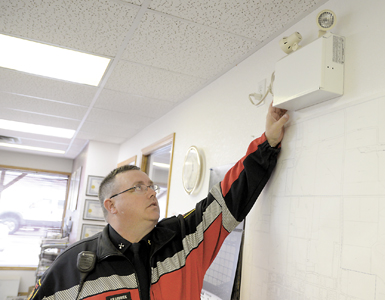 INSPECTION TIME: Fire prevention officer Steve Swarbrick conducts a fire inspection at the Taber Times office last month. TIMES PHOTO BY GREG PRICE
By Greg Price
Taber Times
gprice@tabertimes.com
Hopefully, lockdown measures across the country and province are helping combat the COVID-19 epidemic and will bring some normalcy back to southern Alberta in the upcoming months.
And if businesses do re-open their doors, while the COVID-19 pandemic shows the importance of health, an inspection of your business can increase fire safety.
"There is that phobia of fire inspections," said Steve Swarbrick, fire prevention officer for the Town of Taber. "Most people love the fire department and firefighters, but as soon as you say fire inspection, it changes people's attitude. Fire inspections are pretty new to Taber on a bigger scale."
As of 2017, the Quality Management Plan (QMP) in Taber has changed, council has mandated fire inspections be done at all public buildings and businesses within town limits.
"That leaves us with a substantial amount. Prior to 2017, it was by request for complaint. When they changed the QMP, our view is to keep the public safe. That is our priority," said Swarbrick. "Through these inspections, we are able to focus on public safety."
Swarbrick noted there is fear a fire inspection will shut down a business which he added 99.9 per cent of the time that's not true. Unless some grave issues needed to be addressed immediately. For the most part, fire inspections just bring another level of awareness that some things may be getting neglected that need to be tightened up.
"It's exit lighting, emergency lights, smoke alarms, fire extinguishers, making sure everything is updated," said Swarbrick. "We want to prevent a fire from happening. So, we are going into businesses that haven't been inspected in quite some time. Through the inspection process, it turns into a real education. For a business, it's not part of their world to look for these things. It's not their concern, just like having a fire alarm at home. As long as it has a green light they are happy, but they do expire after 10 years and people just don't know that. People don't know that a lot of smoke alarms have battery backups and you need fresh batteries. It's not their world, but it is our world to look for these things and it can help your business."
Inspections have been going very well, according to Swarbrick in recent years, and that fear of them is dissipating.
"There is that initial response of 'oh no', but by the end of the inspection, we are gaining compliance and keeping the public and businesses safe which is what we want," said Swarbrick. "We offer fire extinguisher training for free. We can do presentations for your business on things like keeping doors closed to stop or slow a fire from spreading."
Working with the planning department of the town with business licenses and development permits, places are flagged that need fire inspections for the QMP.
"Like in this instance, the building owner contacted me and asked what kind of things he needed like smoke alarms and fire extinguishers and things like that," said Swarbrick who sat down with the Times for an interview before doing a fire inspection on the Taber Times building. "Ultimately, it is the building owner's responsibility. Because you have tenants, you obviously want to work with them to keep things the way they are. Where the fire department kicks in is once the inspector signs off saying 'yes this building is built correctly and safely' then they push it off to the fire department to see if they can maintain this. It's provincial mandates working with the provincial fire code."
Through fire inspections, you can ensure walls aren't being taken out or doors moved etc. The building is how it was designed.
"You can imagine living in a town like Taber that has been around for more than 100 years. Buildings that old, they were built to the code of the day. Through renovations and the permitting process, that's how we can ensure we are upgrading to as safe as we can," said Swarbrick. "Now, if I went into a building and said 'you have to come up to code,' there would be hundreds of thousands of dollars in cost and businesses would shut down. We can't operate like that, we have to find a balance and find certain priorities. A good example I use is 'no I'm not going to shut you down unless you have 20 propane bottles in the back room.' That is unsafe storage. If it's a really dangerous situation, yeah, we are going to have to deal with it. It's about public safety, let's work together.'"
It may take years to get a building up to the point it can be as safe as it can be for fire prevention, but for Swarbrick, it's about taking positive steps forward that is viable for a business in its business model.
"It's working together at a reasonable pace for public safety," said Swarbrick. "The fire service is built on history. We learn from unfortunate or devastating events. Back in the 1930s, circus tents were a big thing. They used to seal them with paraffin wax and gasoline to waterproof them. Then there's a big fire and blocked exits with this tent that was soaked in wax and gas. Of course, hundreds of people died. From that, there's a standard now that you can't waterproof that. It's a crude example from nearly 100 years ago, but that's how standards improve, learning from history."
Swarbrick encourages businesses to do self-inspections for exit and emergency lighting once a month. Fire extinguisher inspections should also be done once a month.
"It's just a visual inspection and I can teach you how to do it," said Swarbrick. "It's just an education thing and hopefully going forward you'll get better at those things. But, you can't be blamed for what you don't know, even though it is your responsibility. it is the building owner's responsibility which translates into the tenant's responsibility. We can all work together and ask equations and eliminate those gaps or that fear you may have."
Swarbrick added the baseline has been trying to maintain two businesses a week fire inspected since the new standards came in with the Quality Management Plan.
"Chief Munshaw has set up a really good relationship with the planning department and building inspectors. The building inspectors are calling us in on their final inspection to make sure everyone is on the same page that these are done correctly," said Swarbrick. "So that the fire department going forward will maintain the situation."