Museum looking to preserve COVID-19 history
Posted on April 8, 2020 by Taber Times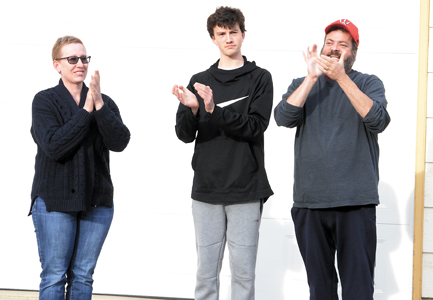 CHEERING SECTION: Andrea and Michael Rose applaud alongside their son Jorryn outside their residence as part of a worldwide celebration on Friday where people were asked to step outside their homes for 15 seconds to show their appreciation for healthcare workers in the fight against COVID-19.
By Greg Price
Taber Times
gprice@tabertimes.com
The current COVID-19 pandemic gripping the world is an unprecedented time in history since the Spanish Flu in 1918.
That's why Karen Ingram of the Taber Irrigation Impact Museum is calling on southern Albertans to help preserve that history so people know how the citizenry reacted to the situation.
"I find when I'm doing research and when I was researching the 1918 epidemic, and there was a typhoid epidemic shock in the area, that we never know how the people thought," said Ingram. "We get the articles from the papers and the bare facts with what's happening. But, we don't get the thoughts of the day-to-day people in what they are doing and how they are handling it. I want to get that idea, that feeling, so that 50 years from now, people reading about it will know it was a really scary time for people. There was a lot of depression or people were upset because the kids were at home and they couldn't go out and play. It's the feelings of the event rather than just the stats."
Ingram wants all the raw emotion of this dealing with the COVID-19 virus pandemic, both positive and negative in showcasing the human spirit in all its realness, to be preserved in history forever. Ingram has already got some submissions for her files.
"I've been picking things up off of Facebook with what people are talking about. There have been a couple of people who have shared thoughts and feelings and I've been keeping a bit of a diary for myself having been off work and working from home," said Ingram. "It's giving a really nice feel of what people are thinking. But I'm looking for so many more stories. I want to hear from everybody and anybody who has thoughts and ideas to share. And there's some really nice things out there like people buying groceries for people who are sick, and how it made them feel when they received them. Every story needs to be shared, it's so important in preserving history for the next generation and for two, three, four generations later. It is to understand that maybe we all needed to work together and those moments are so spontaneous."
During World War I and World War II, there were many letters sent home from soldiers that were shared in the local newspapers. But it seems like in 1918 with the Spanish Flu influenza, it was simply data or the odd editorial or two according to the museum archivist. Ingram wants to get back to the human aspect in times in history that have defined a generation.
"There was nothing from the people, the families that were affected. People that were getting sick, where some survived, where some families lost one or two, some families lost everybody except one or two," said Ingram. "But none of these families were represented in how they thought or felt with what was going on around them during it all. That's what I want to read. How people coped and what became of it."
For those who would like to give submissions to Ingram's project for the Taber Irrigation Impact Museum, they can email her at ingramb@telus.net or at the museum at tiimchin@telusplanet.net. You can also post them on the Taber Irrigation Impact Museum Facebook page or Karen Ingram's personal Facebook page.