Screening getting strengthened at borders
Posted on April 1, 2020 by Taber Times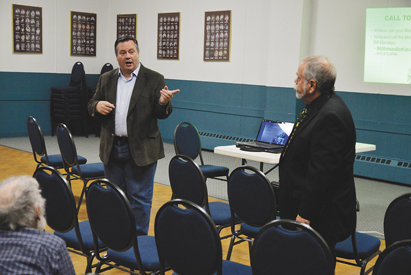 EARLY DAYS: Premier Jason Kenney — at the time seeking the leadership of the PCs — makes a stump speech at a open house with MP Shields in Taber in 2017. TIMES FILE PHOTO
By Trevor Busch
Taber Times
tbusch@tabertimes.com
Serious shortcomings in the screening process for citizens desperately seeking Canadian soil amid the COVID-19 pandemic are slowly being rectified, says Bow River MP Martin Shields.
"The other things that will help, working at the borders — we're actually going to do it — we've been asking for weeks in the sense that you need to screen people coming in, not just 'have you been to China or Italy? Do you feel well?' That's not good enough," said Shields. "So finally — finally — they've said they're going to take the action to be more specific in the sense of you're coming into the country, you have to be tested, and if you have it you're going to be isolated, you're not going home. And if you are coming into the country and you don't have symptoms, you go straight home. You do not pass 'GO'. You go home."
Recent screening changes announced by the federal government should go a long way to eliminating much of the lack of compliance that has been witnessed, contends Shields.
"The other side of that is communities need to be aware of those people returning to their communities, and if they're straight they go home, they don't go the grocery store. That's where communities can really help in the sense of saying, 'Okay, this is my neighbour and he just got home. I should call them and see what I can go get them, what they need, so that the responsibility is for us in our communities to help them out.' But it's the right move to keep those people safe, to keep people who have symptoms that need to be isolated and treated in facilities not at home. Let's say it's somebody coming home and it's a family member, and there's other people in the home, and they have it coming home? That doesn't help. So the screening that we've been asking for, for weeks, that hasn't been there, under this the screening will be much more significant, and we believe as it should be."
Shields wants to see a full cordon of Canada's international borders to prevent illegal crossing and closing loopholes for exit or egress.
"The testing is an issue, in the sense that we need to track and test people. I think the screening, we'll see if it works. The borders, in the sense of illegal border crossing — the government has said they have closed the borders, but at this point (March 27) they have only had one person that has been sent back for illegally crossing the border, and we know there's more people. So we would like to make sure that those people that are crossing those borders illegally are apprehended and sent back — because the Americans have agreed, they're coming back. We're concerned that there are still loopholes for people coming back into the country."