Zucht part of police commission
Posted on March 25, 2020 by Taber Times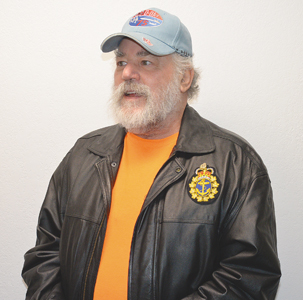 ON POINT: Terry Zucht is the latest member of the Taber Municipal Police Commission. TIMES PHOTO BY TREVOR BUSCH
By Trevor Busch
Taber Times
tbusch@tabertimes.com
New police commissioner Terry Zucht wants to help ensure the police service provides the best possible law enforcement for the community while working within the strictures of a tight budget.
"Community service, helping this community, and it's a good place to start with the commission," said Zucht about why he decided to get involved.
"I like providing oversight for the police."
Zucht was officially sworn in by Mayor Andrew Prokop at the Taber Municipal Police Commission's Jan. 15 meeting, along with fellow commissioner Daniel Remfert.
Zucht will serve a two-year posting with the TMPC.
Civilian oversight of law enforcement is important to Zucht, who has served previously in the Canadian Armed Forces.
"It's definitely very important. You've got to keep them in line, too," said Zucht. "After meeting with a lot of the officers, they're a wonderful bunch of people. I'm just very excited to be involved with this, because civilian oversight is a great thing. I think it also helps the police to get a whole different perspective from their view of what they're doing, because they have the rules and regs, and that's what they see, and the reaction from the community. That's where we can get it all working well together."
Always a concern that is top of mind, Zucht hopes to help the police service work within financial constraints involving budget.
"Budget is the biggest thing, and trying to maintain an effective and efficient police force within the constraints of the budget, that is where I'm hoping to be able to help. It's just too bad we need more policing as opposed to smarter people."
Zucht admits to a learning curve in taking on the role with the TMPC.
"It's rather overwhelming. I've done a couple of meetings with them now and stuff with the police department, it's a whole new learning experience. I'm thoroughly enjoying the challenge."
Balancing fiscal realities with law enforcement priorities is a question mark many communities are dealing with in 2020, adds Zucht.
"I think they're (TPS) doing a great job now, but of course we need more money for them, and then we can get more officers and get better service. How do we do that?"