Town of Taber continues to be in COVID lockdown
Posted on March 25, 2020 by Taber Times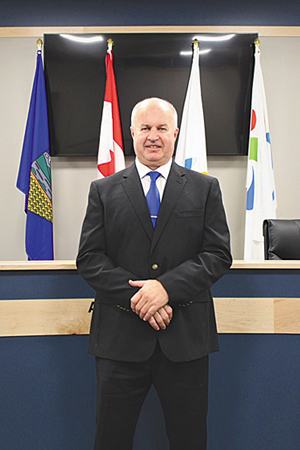 By Trevor Busch
Taber Times
tbusch@tabertimes.com
The Town of Taber took more steps last week to combat the spread of the COVID-19 pandemic, restricting the Administration Building office to the public on March 18 until further notice.
"That's basically through the Alberta Emergency Management recommendations, and Alberta Health Services. You've seen this more and more across the province, that's what's happening, and what's recommended," said Mayor Andrew Prokop. "So we're just basically following suit, and considering best practices for dealing with our staff and operations going forward for this timeframe. There's nothing in stone for how long that may be, but for now that's the recommendation, and that's what we're following."
To ensure minimal impact to citizens, staff will be available by phone or email. Contact information is available at http://www.taber.ca/contact, or citizens can submit a service request at http://www.taber.ca/service requests. There are also a variety of payment options available detailed on the town's website.
"For anyone that goes to the door, the instructions walk you through what you can do, and even if there's a need to see somebody, to come out with a debit machine to pay some kind of bill, they will do that," said Prokop. "So the instructions have all been laid out there. So far it's worked well, I don't think there's been any complaints or concerns. I think everybody is understanding of what we're going through as a province and a country. It's a very difficult time, and we're all in this together. Nobody likes having to deal with it this way, but for the ultimate safety of our community as a whole, that's what this is designed for."
Currently, town council meetings are going forward as planned with restricted public access and the proceedings live stream recorded and archived on the town's website.
"That's correct. In fact, it's still not clear. I believe we're still going to be there in person, but there's a chance that some — or all — may deal with this electronically," said Prokop. "Meaning phoning in — still live streaming — but there may not be anybody there in future. But for now, I believe this week's meeting (March 23) all of us were supposed to be in attendance."
The town has increased its cleaning and disinfecting procedures in public facilities, following the direction provided by the Public Health Agency of Canada and the Government of Alberta, and has a "team of staff constantly monitoring the situation and will act accordingly as the situation changes." Playground structures in the community are also closed until further notice.
"I'd like to think we can deal with this in a few weeks, but it could be several months, as has already been suggested by some health professionals," said Prokop. "I hope they're wrong, but the fact of the matter is that's definitely a possibility. It's affecting everybody across the country. It's very difficult to see no recreation facilities available, or very few restaurants — the shopping centers and grocery stores remain open, but there's many restaurants that have already closed, and likely more to follow."
The town has enacted its Emergency Operations Centre (EOC) as a precaution to help properly circulate information and coordinate efforts if required, but there is no State of Local Emergency yet in place for Taber. The EOC staff will continue to monitor the situation and provide updates when necessary and as per the official directions of the Government of Alberta.
"The EOC has been activated, that's pretty common…but we haven't declared any actual state of emergency locally," cautioned Prokop. "The province has done that, and that actually covers a lot of the bases, but there are things we should do if we need to do so, so we can benefit from the tools available when you announce a declaration."
The town's EOC is located in the current fire hall.
"Our DEM (director of emergency management) is Gary Scherer right now, he chose to stand it up," communications co-ordinator Meghan Brennan told the Times when the EOC was enacted earlier this month. "Not in a super-official capacity that you might see, it's more we're just doing daily briefings and having daily discussions, and if anything changes we would be able to fully step it up. The EOC has been enacted, but more as a precautionary measure."
Huge government aid packages have been announced by the federal and provincial governments to assist in putting money back in the pockets of businesses and individuals that have been detrimentally affected by the viral outbreak, and Prokop encouraged citizens to review this information.
"It's very difficult, there's no doubt. I hope that with what the government has in place there that this will cover some of those people with the shortfalls that way. They're indicating that's what those things are set up for, with EI immediately with no screening, it would be activated immediately so there should be little or no delay for monies available for people that fall into those categories. I guess the best I can advise is just what they're telling as well: follow the Alberta government websites with what's there related to those sorts of things, EI, and what benefits might be available to somebody that's all the sudden out of work because of this, and there are monies available for that purpose during this difficult time."
Prokop called on all Taberites and others throughout the region to pull together to do their part to ensure the safety and health of the entire community is preserved throughout the public health emergency.
"Everybody be safe, and look out for your family, and your neighbours, and check on other friends and elderly members of the community that you may not have heard from, that may be afraid to go out, because there is some of that, indications of that already. Some elderly folks are fearful of being out in public for obvious reasons — because they are, as well as the medically-compromised — more susceptible to a virus like this, and may have a more difficult time getting over than the average healthy person out there. So they've already indicated that the elderly and people with pre-existing medical conditions, immune compromised — may be more at risk than the rest of us out there. It doesn't take much to make a phone call or to knock on someone's door and just make sure they're alright. We all look after each other, and we're a close knit community. In times like this we've got to do our part as best we can, and help people out where there's a need."
The word 'unprecedented' has been worn out by media and politicians in reaction to the crisis in the past two weeks as many dominoes have proceeded to fall in jurisdictions across the nation. While hopeful of a speedier conclusion to the pandemic restrictions now in place, Prokop warned people to manage their expectations.
"It's difficult to see that, and it's tough on everybody. It changes everyone's lives completely, and it's a difficult time. Let's hope this is shorter than it could be, over sooner rather than later. The sooner things get back to normal, I think the happier people will be. But for right now, it's definitely a difficult time, and we've just got to stick together, do our part as best we can wherever we can, and take the necessary precautions and follow the Alberta health official's restrictions and advice, and go from there."
Last week, Taber-Warner MLA Grant Hunter's press secretary, Charlotte Taillon, declined an interview request with the Times on behalf of Hunter regarding the situation unfolding in municipalities and communities across the riding area.
"I unfortunately cannot commit Hunter to an interview at this time," said Taillon in an email response. "I would rely on the updates being provided by Dr. Hinshaw and at Alberta.ca/COVID19 for the most up to date information on this topic. This is mostly because the situation is constantly changing."
Hunter also serves as associate minister of Red Tape Reduction.
As of March 24, Alberta had 301 confirmed cases of COVID-19, with eight cases in the South Zone. Questions on the town's local response to the COVID-19 situation can be submitted to covid19@taber.ca.