Taber area preparing for coming Coronavirus
Posted on March 19, 2020 by Taber Times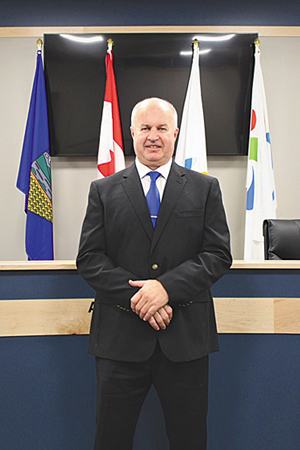 By Cole Parkinson
Taber Times
cparkinson@tabertimes.com
With COVID-19 concerns continuing to push their way into Alberta, the Town of Taber is preaching common sense during the pandemic.
As of March 16, there have been 167,515 confirmed cases and 6,606 deaths globally. Canada has 304 confirmed cases (one in the south zone) and one death, according to the World Health Services situation report 56.
"Basically we're just following the Alberta Health Services recommendations and/or the province with the school closures. It's serious so we're basically doing what we believe is best for the municipality and following those experts. I don't know what more you can do other than to ask people to be more cautionary and if there is a need for help certainly ask for help. I know there have been some seniors who are afraid to go out so it's probably a good idea to check with senior friends and family," said Andrew Prokop, Mayor of the Town of Taber. "A lot of this I think we will take one step at a time."
In a special meeting held on March 17, council made a resolution to close the Taber Ice Arena, the Aquafun Centre, Community Centre Auditorium and meeting rooms as well to cancel all forthcoming Coffee with Council events.
In terms of council meetings, council is requesting people view on their livestream. Board committee meetings — Recreation Board, Arts and Heritage Committee, Municipal Planning Commission and Municipal Police Commission have been suspended unless urgent decisions need to be made.
"So far, we have a council meeting scheduled for Monday. There has been talk of other boards and committees to be on hold for now unless there is an urgent need. That is left up to the board or chair to decide if they need to continue," added Prokop.
Other municipalities have declared a local state of emergency due to COVID-19 but so far, the town doesn't see it as necessary.
"We have discussed that but at this stage, we have not declared a state of emergency," stated Prokop. "I think it's one day at a time in regard to your area, whether it is necessary or not. We just encourage people to be diligent with the recommendations. Wash your hands, if you're sick stay at home and if you're sick go see a doctor. It's just common sense."
The Municipal District of Taber issued a press release mid-afternoon on March 16 which stated they would be closing their side of the Administration Building, their Operations and Maintenance Building, all hamlet shops and their Regional Fire and Enforcement Stations from the public.
"The Municipal District of Taber wants to emphasize that our ability to react to any emergency situation remains unchanged at this time, Regional Fire and Community Peace Officers are carrying on operations as per usual and are ready to respond when required," reads the release.
"We thank our residents for their patience and understanding during this time and remind them to check our website for further updates or register for our S.C.A.R. notification system via our website," reads the release.
While the M.D. decided it was time to close from the public, the town has not reached that stage yet.
They are preaching a safe distance between the public and all of their employees.
"We haven't done that (closed to the public). There have been some restrictions asked as far as if there is not a need to be too close to town personnel. That is kind of the recommendation to keep a little bit of distance between people," explained Prokop.
Economic impacts are certainly being felt all over the world and while it's still fairly early in terms of COVID-19 reaching southern Alberta, Taber is still feeling those effects.
"I've definitely seen it. Some of the different restaurants I've been in over the last few days it has been quiet. I went to visit my dad a few days ago and I don't know if I've ever seen it so quiet on the highway for a Sunday afternoon. I passed maybe a dozen vehicles. People are just staying close to home and that was what was requested," said Prokop. "I don't think you should be afraid to go out of your house personally, but there are people who are more health vulnerable than others. Those people, in particular, had been suggested to keep away from people."
While certain businesses have seen a dip in the public coming through their doors, grocery stores are not one.
As hoarding culture has taken off since the pandemic was announced, Prokop urges Taber residents to be sensible and leave items on the shelves for others.
"The grocery items that people are hoarding, it seems to be so popular and crazy. It's common sense that there should be some standard courtesy to other people. I see there are restrictions on certain items now and I think that's good. There is nothing wrong with limiting and it's just about being fair and reasonable," he said.
For more information on COVID-19 from the town's perspective, you can email covid19@taber.ca and visit taber.ca/covid19.
For the M.D. of Taber, visit mdtaber.ab.ca/p/covid-19-response.