Lion's Club is 85 years young
Posted on March 19, 2020 by Taber Times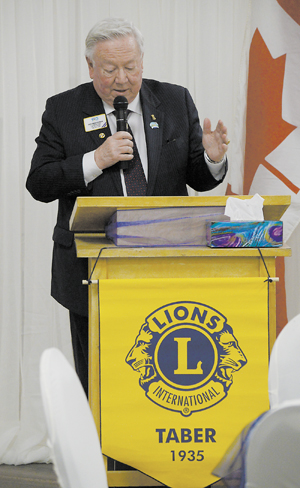 LION ROAR: PIP Judge Brian Stevenson was on hand at the Taber Legion on Saturday to congratulate Taber Lion's Club on its 85 years of serving the community. TIMES PHOTO BY GREG PRICE
By Greg Price
Taber Times
gprice@tabertimes.com
Lots of people got to enjoy birthday cake at the Taber Legion on Saturday as Taber Lion's Club celebrated its 85th birthday of service to the community.
Several dignitaries were on hand to see the momentous occasion as the past presidents of 85 years were recognized with a lighting ceremony, along with a historical perspective of how much impact the organization has had by presenter Joe Orban.
Commemorating the day was also special guest speaker PIP Judge Brian Stevenson.
Taber received its charter in March of 1935 from Lions Club International.
"One thing that hasn't changed over the years is the dedication and commitment of the Taber Lion's Club helped by the Lady Lions and Lioness Club to help make Taber a better place to live, to work and to play," said Stevenson.
Several Lethbridge Lions came to Taber in 1935 to explain the purposes and objectives of the club, which would make an impact on the community for the next 85 years.
"The contributions of the Lions and Lioness have made Taber the prosperous and vibrant community it is today," said Stevenson.
The checklist of people and organizations the Lions Club have helped has been vast. The M.D. of Taber Park, parks and playground equipment, the food bank, Safe Haven Women's Shelter, the Children's Wish Foundation, Clearview Lodge, the Berry Patch, the Lethbridge Regional Hospital's retina camera project, Taber Cares (High River flooding), bicycles and medical and firefighting equipment for Chile, fuel for STARS ambulance at the hospital, the Community Centre, and the Taber Golf Club. Club members have also been involved in supporting bartending for events, the duck race, toy raffle, operating the arena concession for more than 50 years, organizing Good Neighbour Suppers, Ken McDonald Memorial Sports Park, mint sales, Lions Foundation of Canada, Lions of Alberta Eye Bank, Lions Youth Camp, Lions Youth Exchange, Linden View Care Facility, Heart and Stroke, Scouts, air cadets, Royal Canadian Legion, Kiwanis, Rotary Club, Elks, Moose and Women of Moose, various churches, the Knights of Columbus, Jaycees, Taber and District Chamber of Commerce, the Town of Taber and the Canada Day millennium project.
Recent initiatives include Christmas tree sales west of the Co-Op gas bar which go in November and December every year and raise around $4,000, which Lions distributes to various non-profits. Taber Lions Club is also involved in sandbag sales and highway clean up. Taber Lion Joe Orban hits the streets with various sports pools for people to enter to help raise money, along with Taber Lions Club raising awareness about diabetes at the Taber Parade and running the Lions Foundation Walk for Dog Guides.
"When I became a Lion over 53 years ago, a wise senior Lion told me that being a Lion and living in accord with our objectives and code of ethics was truly the practical application of one's religion. At the end of the day, in over 48,000 communities around the world where we find the Lion's banner waving in the breeze, we see examples of our brothers and sisters religion," said Stevenson. "Examples that reinforce the fundamental purpose which Lions exist to care for each other. Acts of kindness, acts that matter to someone else. It's found in playgrounds equipped, picnic shelters built, Lion's sponsored athletic fields, in health clinics. We've found that application when we see a child's schoolwork improve because they can now see the blackboard with glasses supplied by the Lion's."
The Lion's pin is usually worn over the heart, a heart Stevenson noted can be found ringing bells for the Salvation Army, over a hot grill cooking hamburgers for a fundraiser, or donating a pint of precious blood.
"This practical application of a person's religion around the world is of the federation of over 48,000 Lion's clubs world wide, the greatest secular force ever known to mankind," said Stevenson. "Someone once said the service that we perform is the rent we pay for the time we have here on earth. One person who has clearly paid his rent is former United States president Jimmy Carter who is still a Lion and is an active member of the Plains Georgia USA club. President Carter described his philosophy this way, 'I have one life to live, and once chance to make it count for something. I am free to choose what that something is and that something I have chosen is my faith. My faith goes beyond theology and religion, it requires considerable work and effort. My faith demands that I do whatever I can, wherever I can, whenever I can, for as long as I can with whatever I have in making a difference'."
Stevenson applauded the Taber Lions and Lioness for the difference they have made in their service programs with their love and pride in making a lasting impression on the social fabric of Taber and southern Alberta.
Some interesting historical tidbits of when Taber Lions Club first came into existence in 1935: The Bank of Canada was established. The Montreal Maroons won the Stanley Cup. Famous Canadians born in 1935 included actor Donald Sutherland, and politicians Don Mazankowski and Ray Speaker. Other famous people born in 1935 included Jerry Lee Lewis, Julie Andrews, Luciano Pavarotti, Gary player, Sonny Bono, and Elvis Presley. In July 1935, the Canadian Wheat board was established. Unemployment in the Great Depression was still running at over 20 per cent. Average cost of a house was $3,400 and you could rent a house for $20 a month. The average annual wage was just under $1,600. A gallon of gas was 10 cents. A loaf of bread was eight cents. Spring chickens were 20 cents a pound.