Holy Spirit addresses education concerns with COVID fall out
Posted on March 19, 2020 by Taber Times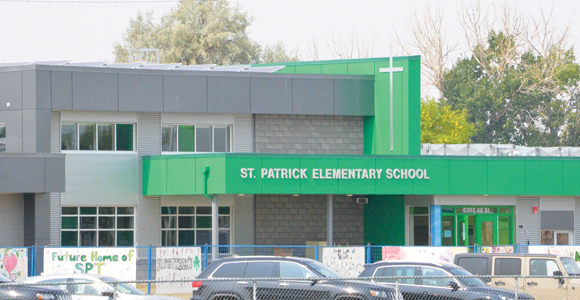 TIMES FILE PHOTO
By Nikki Jamieson
Alta Newspaper Group – Coaldale
As worries about COVID-19 grow, Holy Spirit Catholic School Division wants to assure parents and students that they are keeping careful watch on the situation.
"Holy Spirit Catholic School Division has worked closely with our experts, particularly those in Alberta Health Services, to make decisions that ultimately ensure the public safety of our school communities," said Ken Sampson, superintendent of Holy Spirit School Division. "While we know that many of these decisions will be disappointing for our students, it is our sincere hope that by adhering to the aggressive actions laid out by Alberta's Chief Medical Officer of Health, Dr. Deena Hinshaw, our students and our society will be further along in preventing and mitigating the acquisition and transmission of the Coronavirus."
The Alberta government has mandated that student attendance at schools grades Kindergarten to Grade 12 be prohibited. Additionally, post-secondary classes are cancelled, although campuses are still open, and all licensed child care facilities, out-of-school care programs and preschool programs are to close for the time being.
This comes on the heels of the province announcing 18 new cases of COVID-19 in Alberta, bringing the total number of cases to 74 as of Monday, March 16. Eighteen of cases are in the Edmonton zone and 52 are in the Calgary zone, and as of press deadline there were single cases in Alberta confirmed in the north and south zones. At least two of the cases identified over the weekend appear to have been acquired through community transmission from an unknown source, and seven cases occurred as a result of a single gathering in the Calgary zone.
While students may not be able to physically attend classes, it doesn't mean they won't be required to do school work necessarily.
"We are fortunate that technology is now available to ease the transfer of information, particularly for students in older grades. While it's early to indicate what schoolwork could be accomplished online, and certainly this mechanism of education would not always be ideal, it is certainly possible that technology could be used to facilitate learning in the short term."
Information about the division's response to COVID-19 can be found online at http://www.holyspirit.ab.ca, and through their social media channels.