Newcomers entrenched in fabric of Alberta
Posted on March 4, 2020 by Taber Times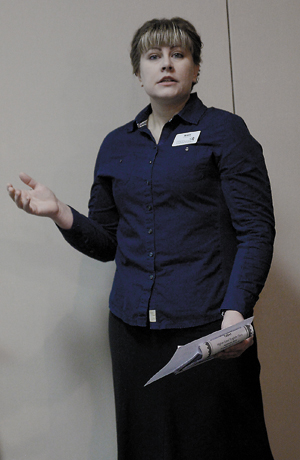 PRESENTATION: Translator Mary Klassen highlights some newcomer services that Taber and District Community Adult Learning Association offers at a business luncheon last Thursday. TIMES PHOTO BY GREG PRICE
By Greg Price
Taber Times
gprice@tabertimes.com
The following is the first story of a multi-part series highlighting services Taber and District Community Adult Learning Association offers.
Taber Economic Development and Taber and District Community Adult Learning Association (TDCALA) teamed up on Thursday to offer up an employers' information breakfast.
Newcomers Services for TDCALA welcomes new residents who have been in Canada for less than 10 years.
"Many of them are just getting out in the workforce. This is the baseline for the needs of living. What we do is provide a centralized source of support and information. It's usually building foundational skills and foundational knowledge," said presenter Sydney Cabanas. "A lot of the time they come to us not quite familiar with simple Canadian things like banking in their job search. That doesn't mean they don't have valuable skills or knowledge to contribute to businesses or the economy, it just means they need a little help in doing that at our office. They work very hard to integrate into our economic and social systems."
Through Newcomers Services, TDCALA has got help from the business community in handing out resource packages.
"We give them things about you guys like business cards, brochures, how to bank, where to get your taxes done and where to go shopping," said Cabanas. "It helps newcomers connect with the community."
Mary Klassen works as a translator and speaks Low German.
"As you know, there are a lot of Low German Mennonites in the community and those barriers are high. I get clients before they even land in Canada. They are asking me are there jobs available, when can I come? Is there housing available?" said Klassen. "At the newcomers office we are able to help them find housing and work placement. In Low German, I don't even have a word for resume. They are used to looking for jobs the old-fashioned way, which is word-of-mouth. When everything is online, it's really hard to find for them. For us to point them in the right direction, translate some of these job postings, it really helps them."
Not knowing the language, having piles of paperwork to fill out can be daunting.
"(Last Wednesday), we entered number 444 client into our data base. From November 2017, that's how many clients we have seen come through Taber, just to our office. Out of those, we have 24 different countries/provinces represented," said Klassen. "Out of those, about 60 per cent are Low German Mennonites. There's different needs for every person, but also different needs for every culture."
A common misconception of new immigrants to the country or province is it is all unskilled labour. Klassen pointed out Newcomers Services sees engineers, industrial trades, computer service etc.
"They are here but are unable to find a job. A lot of them are underemployed or unemployed. A lot of them have great skills, it's just a matter of having their credentials recognized, that has been a bit of an issue," said Klassen. "With lack of social and professional networking, they just don't know people. Often it's not what you know, it's who you know. And if they don't know where to go, they get left behind."
According to a 2016 census, 27 per cent of the population in the M.D. of Taber were newcomers, with the town of Taber being 18 per cent. It was 21 per cent for the population as a whole in Alberta.
"We are getting a lot of new people, if you build it, they will come," said Klassen.
Jane Brenner, executive director of TDCALA, noted how communities are changing.
"It's going to change more and it's going to change faster. I wrote the proposal for funding for Newcomers Services, I estimated we would see 200 new members in two years, and we saw 400," said Brenner. "And sometimes when they come into the office, they come from all these different countries and we ask them, 'why did you come to Taber, why not Edmonton, Toronto or Lethbridge? A lot of them are coming for small businesses, they know a friend who runs a small business in town. We see a lot of multi-culturalism."
TDCALA recently wrote another proposal for the next two years to educate the community on different cultures.
"To become a more welcoming community. We want them to come to Taber and we want them to see it as a place they would like to call home. They are adding such colour to our community," said Brenner. "When you hear some of their stories, coming from war-torn countries, it's things we have never experienced. One of our students said to me with tears in her eyes, 'i just never knew it would be safe to cross the street.' Can you imagine that?"