Lions Club 85 years young
Posted on March 4, 2020 by Taber Times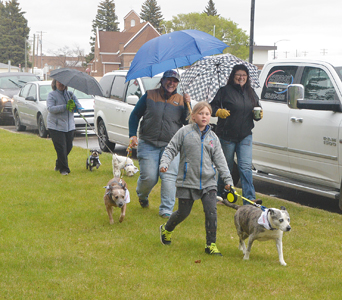 DOG DAY AFTERNOON: Taber Lions Club has been a big supporter of the Walk For Dog Guides over the years which is held at Confederation Park. TIMES FILE PHOTO
By Greg Price
Taber Times
gprice@tabertimes.com
Taber Lions Club will soon be celebrating being 85 years young this month, and its influence today is still far reaching.
Organized in March 1935 and initially sponsored by the Lethbridge club, 20 men formed the Taber Lions Club, with inaugural president Jim Douglas.
Dean Arnold is the current president for 2020 and showcased the various activities the club is involved in today.
While the Taber Lions Club will be celebrating its 85th birthday at the Taber Legion Hall on March 14 and blowing out the candles, the organization is also looking to use it as a springboard to try and attract new members.
"It's not life or death by any stretch of the imagination (that we get new members), but like any other non-profit service group in the community, we are always looking for new members to simply carry on. To give you an example, the Cornfest food booth was impossible to run with the nine active members we had at the time, so we've gone into a partnership with the M.D. of Taber. Maybe that's the future of service clubs, where they partner up in these community events," said Arnold. "It's getting harder to find people. I don't want to say people want to get paid for their hobbies, but my Dad always said find a hobby that pays. A lot of young people look at you like you've lost your mind volunteering and not getting paid for it."
Arnold used to referee hockey and umpire in baseball, and while those put some extra money in his pocket, he was looking for even more opportunities to help serve his community. Joining the Taber Lions Club, the club today still has many initiatives.
"It was instilled in me as a young man that if I wanted to live in a community that I was proud of and that I liked living in, non-profit groups is what makes them. Walking paths and swimming pools, spray parks, recreation and theatre — these things don't happen without volunteers and people who care about the community — plain and simple."
Christmas tree sales west of the Co-Op gas bar go in November and December every year and raise around $4,000, which Lions distributes to various non-profits. Taber Lions Club is also involved in sandbag sales and highway clean up. Taber Lion Joe Orban hits the streets with various sports pools for people to enter to help raise money, along with Taber Lions Club raising awareness about diabetes at the Taber Parade.
"If you haven't had Joe Orban hit you up to buy pools tickets on various sporting events then you must be living in a cave," said Arnold. "We walk the parade route with our hand out, so to speak, and get donations from the public at the parade. This past year we raised $1,000 just from that 45 minutes, to give back to Diabetes Canada. Taber is a generous place."
A cause close to Arnold's heart is the Lions Foundation Walk for Dog Guides which he has been the chair of since 2011. Taber Lions Club has raised funds from $1,500 the previous years, to the last two-year goals being $23,000. The walk has gone from five to 50 participants.
"To be quite honest with you, I'm not really a dog guy. I don't have a pet dog. But what I see is when an autistic child who hasn't spoken for three or four years, raising money for that young man to get a dog, and all the sudden that young man is out in the community being social, living an active and all life because of a service animal, to me that is fantastic," said Arnold.
The checklist of people and organizations the Lions Club has helped has been vast. The M.D. of Taber Park, parks and playground equipment, the food bank, Safe Haven Women's Shelter, the Children's Wish Foundation, Clearview Lodge, the Berry Patch, the Lethbridge Regional Hospital's retina camera project, Taber Cares (High River flooding), bicycles and medical and firefighting equipment for Chile, fuel for STARS ambulance at the hospital, the Community Centre, and the Taber Golf Club.
Club members have also been involved in supporting bartending for events, the duck race, toy raffle, operating the arena concession for more than 50 years, organizing Good Neighbour Suppers, Ken McDonald Memorial Sports Park, mint sales, Lions Foundation of Canada, Lions of Alberta Eye Bank, Lions Youth Camp, Lions Youth Exchange, Linden View Care Facility, Heart and Stroke, Scouts, air cadets, Royal Canadian Legion, Kiwanis, Rotary Club, Elks, Moose and Women of Moose, various churches, the Knights of Columbus, Jaycees, Taber and District Chamber of Commerce, the Town of Taber and the Canada Day millennium project.
Arnold notes with dwindling membership in various service groups, you may see different organizations having to combine forces to take on larger projects.
"I don't think these clubs are going to be able to survive unless they group together. I don't mean go to the same meetings and fly the same banner, but to put on these huge community events that take lots of people to run, we are going to have to get together," said Arnold.
If you would like more information on the Taber Lions Club, or would like to volunteer, you can call Orban at 403-382-0216.